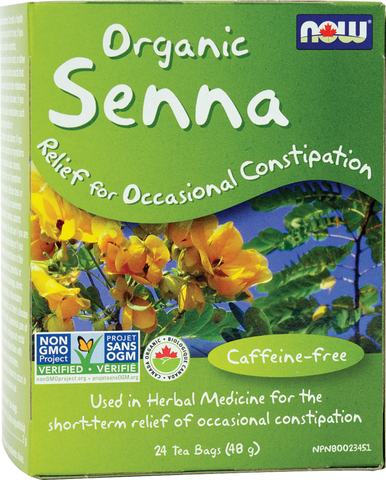 Organic Senna Tea - 24bags - Now
PRODUCT DESCRIPTION:
Used in Herbal Medicine for the short-term relief of occasional constipation
Caffeine-free
Organic, Non-GMO Verified
Staple-free tea bag design
Senna herbal tea is a trusted laxative, and it also supports bowel health and can help the body detoxify. It can help relief that bloated feeling, and help to keep you regular, naturally.
Directions: (Adults and Adolescents 11+) Put 150mL of warm water over leaf tea bag and infuse for 10 - 30 minutes. Allow 6 to 12 hours for laxative effect. Take a few hours apart from other medications or health products. Take a single dose at bedtime. Take 2 to 3 times per week. If results are not observed, increase use up to once daily. Consult a health care practitioner for use beyond 7 days.
Ingredients: Each tea bag contains: Organic Senna (Cassia angustifolia) (leaves) 2 g.

Caution: Consult a health care practitioner prior to use; if you are taking thiazide diuretics, corticosteroids, licorice root, or other medications or health products that may aggravate electrolyte imbalance; if you have a kidney disorder; if you are taking cardiac medications such as cardiac glycosides or antiarrhythmic medications; if you have fecal impaction or symptoms such as abdominal pain, nausea, vomiting or fever; or if symptoms persist or worsen. Reduce dose or discontinue use if you experience abdominal pain, cramps, spasms and/or diarrhea. Do not use if you are pregnant or breastfeeding or if you have abnormal constrictions of the gastrointestinal tract, potential or existing intestinal blockage, atonic bowel, appendicitis, inflammatory colon disease such as Crohn's disease or ulcerative colitis, abdominal pain of unknown origin, undiagnosed rectal bleeding, severe dehydration with depleted water or electrolytes. Hypersensitivity is known to occur, in which case, discontinue use.
---
We Also Recommend