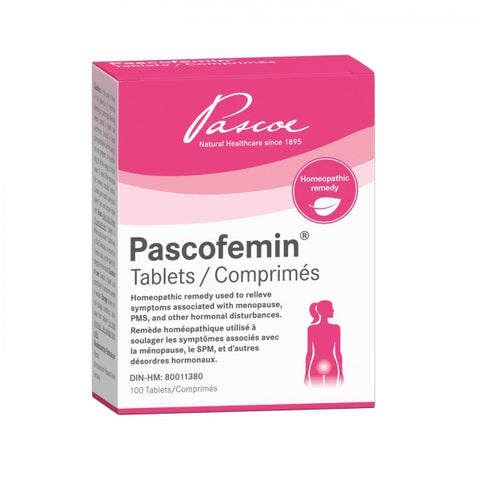 Pascofemin - 100tabs - Pascoe
Pascoe Pascofemin Drops
Regain Harmony In Your Life with Pascofemin: 
Pascofemin® is a homeopathic remedy to relieve symptoms associated with menopause, PMS, and other hormonal disturbances such as hot flashes, sleep disorders, bloating, mood swings, irritability, breast tenderness, abdominal pain, and headaches. It is suitable for adults and children 12 years and up and made with naturally sourced medicinal ingredients including Agnus castus, Pulsatilla, Lilium tigrinum, and Cimicifuga. 
Pascofemin Drops include the ingredient Fraxinus Americana. This key ingredient is widely used to help treat symptoms typically associated with menopause, such as hot flashes and mood changes. As well, it is also widely used to help treat uterine fibroids. The other active ingredients work to help relieve menstrual problems and other hormonal disturbances. The oral drops should be taken diluted in a little water.
Medicinal Ingredients:
1 tablet contains: Agnus castus 2X 30 mg, Cimicifuga 6X 30 mg, Aletris farinosa 3X 10 mg, Pulsatilla 4X 10 mg, Helonias dioica 3X 10 mg 
Lilium tigrinum 3X 10 mg, Ignatia 4X 10 mg, Senecio aureus 5X 10 mg, Caulophyllum 2X 10 mg
Dosage: 
Adults, children ≥ 12 years: 1-3 tablets 1-3 times a day. Acute: Take 1 tablet every 30-60 minutes no more than 6 times a day.