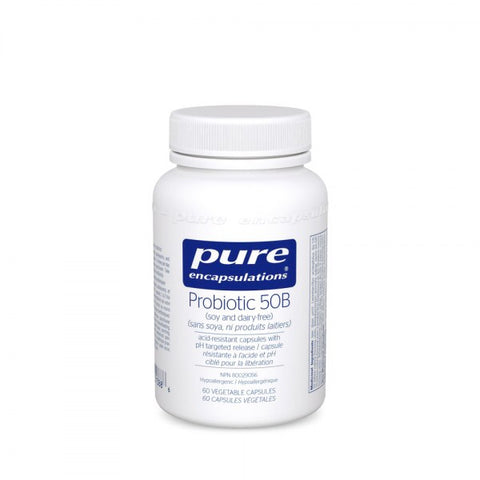 Probiotic 50B - 60vcaps - Pure Encapsulations
Pure Encapsulations Probiotic 50B
Supports gastrointestinal health and contributes to a favourable gut flora
Dairy- and soy-free formula
Probiotic 50B provides 50 billion CFU per serving of the beneficial bacteria Lactobacillus acidophilus, Lactobacillus rhamnosus, Lactobacillus plantarum, Bifidobacterium longum subsp. longum and Bifidobacterium animalis subsp. lactis. This formula is offered in acid-resistant capsules with pH-targeted release for maximal probiotic viability. These capsules are designed to resist disintegration in an acidic environment (i.e. stomach) and dissolve in more alkaline environments (i.e. small and large intestine). This technology helps to protect the organisms from stomach acid, delivering the maximal viable organisms to the G.I. tract. This blend of lactobacilli and bifidobacteria is designed to promote healthy intestinal ecology to support gastrointestinal health. Probiotics have been shown to maintain healthy G.I. barrier function, in part by supporting intestinal epithelial integrity. Several trials have also revealed that mixed probiotic supplementation helps maintain intestinal flora and promote G.I. comfort.
Recommended Use: Source of probiotics. Helps sup- port intestinal/gastrointestinal health. Could promote a favourable gut flora.
Recommended Dose: Adults, adolescents, and children ≥ 6 year old: Take 1 Capsule 1–2 times per day or as directed by a healthcare practitioner. Take at least 2–3 hours before or after antibiotics.

Medicinal Ingredients (per capsule): Probiotic blend 50 billion CFU (Providing: Lactobacillus plantarum (Lp-115) 15 billion CFU, Lactobacillus aci- dophilus (La-14) 10 billion CFU, Lactobacillus rhamnosus (Lr-32) 10 billion CFU, Bifidobacterium animalis subsp. lactis (Bl-04 ) 10 billion CFU, Bifidobacterium longum subsp. longum (Bl-05) 5 billion CFU).

Non-Medicinal Ingredients: Rice starch, Hydroxypropyl methylcellulose, Gellan gum, Purified water.
---
We Also Recommend