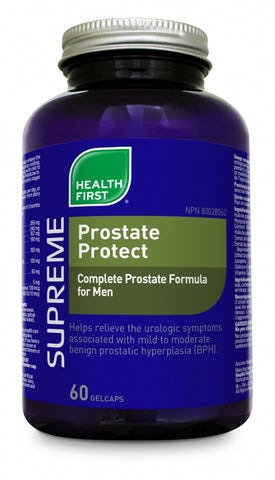 Prostate Protect 60 vcaps- Health First
Prostate Protect 60vcaps 
Natural Product Number (NPN): 80028062
Recommended use or purpose: Help reduce symptoms of benign prostatic hyperplasia (BPH) including urologic symptoms. Supports prostate health.
Product Brief:
Health First®'s Prostate Protect was formulated with immediate and long-term prostate health in mind. For fast relief of BPH urinary difficulties, Prostate Protect contains a combination of nature's most effective plant-based ingredients such as phytosterols, saw palmetto, pumpkin seed oil, rye pollen extract and nettle root. To help prevent the development of more serious prostate conditions, Prostate Protect contains Lycopene, Selenium, Vitamin D and Cranberry. With these two functions, Prostate Protect is one of the most complete prostate formulas available.
Each gelcap contains:
Pumpkin Seed Oil (Curcurbitapepo) 350 mg
Phytosterols (GMO-free) from soy bean 240 mg
Beta Sitosterol (plant) 107 mg
Stigmasterol (plant) 68 mg
Campsterol (plant) 57 mg
Saw Palmetto Fruit Oil (Serenoa repens) (90% fatty acids) 180 mg
Nettle Root 20:1 extract (Urtica dubia) 100 mg
Tomato fruit extract (Lycopersicon esculentum) (Lycopene 5%) 100 mg
Cranberry fruit 25:1 extract (Vaccinium macrocarpon) 100 mg
(2500 mg crude equivalent)
Rye Flower Pollen 20:1 extract (Secale cereale) 60 mg
Selenium (Selenomethionine) 100 mcg
Vitamin D3 (Cholecalciferol) 100 IU/2.5 mcg
Non-medicinal ingredients: Unbleached lecithin, yellow beeswax, soybean oil, gelcap shell (gelatin, glycerin, purified water), coating: carob, glycerin.
Dosage: Take 2 gelcaps daily, or as directed by a health care practitioner. Take away from dairy products or animal fat.
Use for a minimum of 3 months and for longer use consult a health care practitioner.
Risk information: Not to be used by women and children or people with hypotension or
hypertension. Consult a health care practitioner prior to use if you are taking blood thinners,
diabetes and/or blood thinner medication have a history of heart and/or kidney diseases,
or non-melanoma skin cancer. Discontinue if you experience nausea, headache, dizziness
or gastrointestinal discomfort. If symptoms persist after 6 months, consult a health care
provider.
Storage: Keep out of the reach of children. Do not use if under cap safety seal is broken.
Free from artificial flavours, artificial colours, gluten, wheat, lactose, preservatives, added sugar
and yeast.
Information for educational purposes only. A health professional should be consulted prior to use.