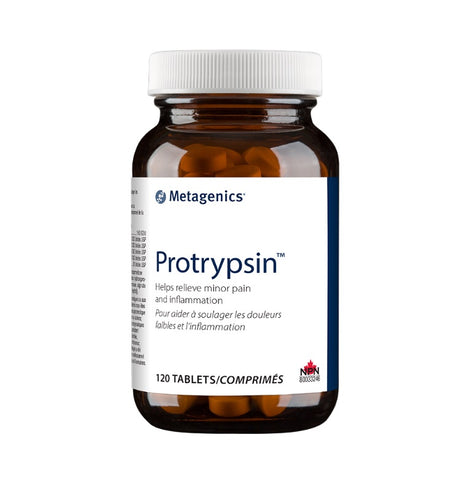 Protrypsin - 120tabs - Metagenics
Metagenics Protrypsin
Helps relieve minor pain and inflammation.
Non-Medicinal Ingredients: Cellulose, stearic acid (veg), croscarmellose sodium, silicon dioxide, and enteric coating (ethyl cellulose, hydroxypropylmethylcellulose, medium-chain triglycerides, ammonium hydroxide, sodium alginate, hydroxypropylcellulose, oleic acid, and stearic acid [veg]).
Recommended Dose: Adults take 1 tablet daily with or immediately before a meal or as directed by your healthcare practitioner. Do not crush or chew.
Recommended Use: Used in herbal medicine to help relieve minor pain, swelling, and inflammation.
Caution: Do not use if you are sensitive to pancreatic enzymes or pork proteins. Consult a healthcare practitioner prior to use if you are pregnant or breastfeeding, have diabetes, pancreatitis, pancreatic exocrine insufficiency or cystic fibrosis, have gastrointestinal lesions/ulcers, are taking anticoagulant agents, anti- inflammatory agents, other enzyme products or are having surgery. If symptoms persist or worsen, or you have nausea, vomiting, diarrhea, abdominal pain/epigastric pain and/or heartburn, consult your healthcare practitioner. Hypersensitivity/allergy has been known to occur; in which case, discontinue use. Consult a healthcare practitioner for prolonged use or use beyond 4 weeks. Do not refrigerate. Do not use if perma seal is missing.
This product is non-GMO and gluten-free.
| Medicinal Ingredients | Amount Per Serving |
| --- | --- |
| Each tablet contains not less than: |   |
| Bromelain (pineapple stem) | 160 GDU |
| Chymotrypsin (bovine pancreas) | 3,000 USP Units |
| Trypsin (porcine pancreas) | 3,000 USP Units |
| Protease (porcine pancreas) | 1,042 USP Units |
| Amylase (porcine pancreas) | 1,042 USP Units |
| Lipase (porcine pancreas) | 83 USP Units |