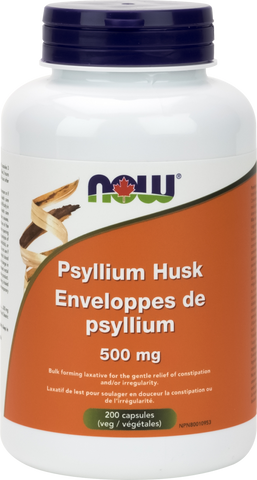 Psyllium Husk 500mg - 200caps - Now
PRODUCT DESCRIPTION:
Bulk forming laxative for the gentle relief of constipation and/or irregularity
Convenient capsule format
Soluble Fibre source
Vegetarian / Vegan
Psyllium Husks can be a convenient way to increase the intake of dietary fiber. It has the ability to swell up to 50 times its initial volume when added to liquid. This bulking action can play an important role in maintaining regularity and gastrointestinal health.
Directions: (Adults & Adolescents 13+) Take 2 capsules 3 times daily with 30ml of liquid. Maintain adequate fluid intake. Take 2 hours before or after taking other medications. Effects observed 12-24 hours after first dose, and may take 2-3 days. 
---
We Also Recommend