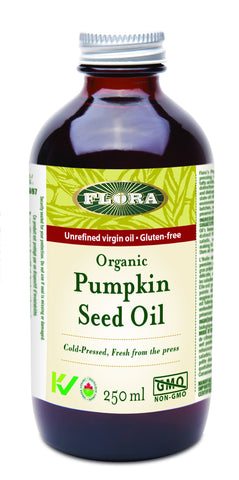 Pumpkin Seed Oil - 250ml - Flora
Flora's Pumpkin Seed Oil from the first
pressing is a source of polyunsaturated
fatty acids. This delicate gourmet oil has a
distinctive flavour and is ideal for salads
and dietary purposes. It is pressed in Flora's
state-of-the art oxygen-free and light-free
environment. This oil is produced in small
batches, unrefined and nitrogen-flushed to
preserve freshness.
Nutrition Facts

Serving size 1 tbsp. (15 ml)
 
Amount
 
Calories 124
 
 

% Daily Value*

Fat: 14 g

22 %

   Saturated 2.7 g
   + Trans 0 g

14 %

   Polyunsaturated 6 g
 
       Omega-6 6 g
 
       Omega-3 0 g
 
Cholesterol 0 g

0 %

Sodium 0 mg

0 %

Carbohydrate 0 g

0 %

   Fibre 0 g

0 %

   Sugars 0 g
 
Protein 0.4 g

 

Vitamin A

0 %

Vitamin C

0 %

Calcium

0 %

Iron

0 %

*Percent Daily Values are based on a 2,000 Calorie diet

 

INGREDIENT:
Organic pumpkin seed oil*.

* verified organic by QAI

 

SUGGESTED USE:
Flora's Pumpkin Seed Oil's beautiful dark green color and rich, distinct flavour adds zest to all kinds of salads, vegetables, and pasta dishes, making it ideal for everyday use. Store at room temperature.

Available as: