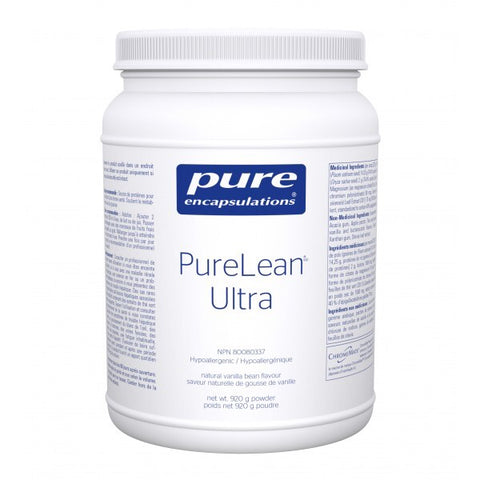 PureLean Ultra - 920g - Pure Encapsulations
Pure Encapsulations PureLean Ultra
Offers an enhanced blend of vegetarian protein and metabolic cofactors for athletic support
Features 24.18 grams of vegetarian protein from pea and rice protein per dose
Assists in the building of lean muscle mass when combined with regular resistance training and a healthy balanced diet
Offers magnesium to promote nutrient metabolism, proper muscle function and normal electrolyte balance
Provides chromium to support healthy glucose metabolism
Includes green tea extract standardized to contain 40% epigallocatechin gallate (EGCG)
Smooth and delicious formula lightly sweetened with natural vanilla and butterscotch flavours
PureLean® Ultra is a high-protein blend offering metabolic cofactors in a lightly sweetened, smooth and delicious formula. When combined with regular resistance training and a healthy balanced diet, high protein intake has been found to assist in the building of lean muscle mass. Diets higher in protein have been associated with healthy lean muscle composition, due in part to enhanced muscle protein synthesis. In a comparison study involving individuals on a high-protein (45% protein, 35% carbohydrate and 20% fat) or high-carbohydrate diet (60% carbohydrate, 20% protein and 20% fat), higher protein intake was found to help maintain lean body mass. In another study involving athletes, those following a high-protein diet (35% protein) were more likely to maintain lean body mass than individuals on a control diet (15% protein). High-protein diets may also help to enhance the repair of muscle protein after exercise and support muscle anabolism as individuals age. The nutrient cofactors magnesium, chromium and biotin are included to enhance nutrient metabolism, while green tea provides epigallocatechin gallate, the most powerful catechin.
Recommended Use: Source of protein for the maintenance of good health. Provides support for healthy glucose metabolism.
Recommended Dose: Adults: Add 2 scoops to 250 ml of water, milk or juice. Blend with fresh or frozen fruit pieces if desired. Shake, stir or blend until smooth. Take once daily or as directed by a healthcare practitioner.
Medicinal Ingredients (per scoop [22.9 g]): Pea protein (Pisum sativum seed) 14.25 g (74.4% protein), Rice protein (Oryza sativa seed) 2 g (74.4% protein), Biotin 1500 mcg, Magnesium (as magnesium citrate) 50 mg, Chromium (as chromium polynicotinate) 90 mcg, Green tea (Camellia sinensis) Leaf Extract (20:1) 75 mg (1500 mg dried equiva- lent, standardized to contain 40% epigallocatechin gallate)
Non-Medicinal Ingredients: Evaporated cane juice, Acacia gum, Apple pectin, Flax seed powder, Natural vanilla and butterscotch flavours, Sodium chloride, Xanthan gum, Stevia leaf extract.
---
We Also Recommend