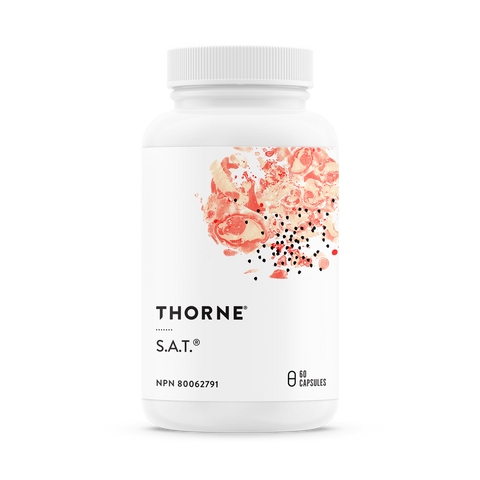 S.A.T. - 60caps - Thorne
Thorne S.A.T.
Silymarin has been shown in numerous clinical studies to support the body's normal inflammatory response and prevent liver cell damage by carbon tetrachloride, ethanol, acetaminophen, mushroom toxins, and benzopyrene from automobile exhaust. Studies indicate the silybin-phosphatidylcholine complex in Siliphos provides superior bioavailability compared to conventional milk thistle products. Artichoke (Cynara scolymus) has a long history of use in hepatic support. Turmeric has been used traditionally in both Chinese and Ayurvedic medicine to support liver function. The primary efficacious agent is the yellow pigment curcumin. Curcumin's hepatoprotective activity is likely due to its strong antioxidant activity and potential to maintain the body's normal inflammatory response. Binding curcumin to the hepatoprotective phospholipid phosphatidylcholine (as Meriva) not only increases bioavailability but enhances its hepatoprotective effects.
Recommended Use or Purpose: Helps support a healthy liver. Used in herbal medicine to help increase bile flow.
Recommended Dose (Adults): Take 1 capsule three times daily or as recommended by your health professional. Use for a minimum of 3 weeks to see beneficial effects.
Medicinal Ingredients: Per Capsule: Milk Thistle Silybin-Phosphatidylcholine complex 150 mg (Silybum marianum) (fruit) / Helianthus annuus (sunflower) (seed)), Standardized to contain 30% silybin, Cynara scolymus (Artichoke) (leaf) (4:1 extract) 150 mg Dried equivalent of 600 mg/capsule, Curcuminoids-Phosphatidylcholine complex 90 mg (Curcuma longa (root) / Helianthus annuus (sunflower) (seed)) Standardized to 33% curcuminoids
Non-Medicinal Ingredients: Hypromellose (derived from cellulose) capsule, Microcrystalline Cellulose, L-Leucine, Silicon Dioxide.