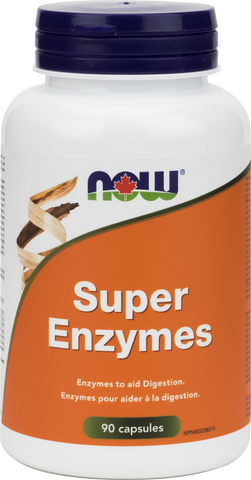 Super Enzymes - 180caps - Now
PRODUCT DESCRIPTION:
Enzymes to aid digestion
Comprehensive formula
Breaks down Fats, Carbs & Protein
Fast acting capsule delivery
NOW® Super Enzymes is a comprehensive blend of enzymes that supports healthy digestion. Formulated with Bromelain, Ox Bile, Pancreatin and Papain, Super Enzymes helps to optimize the breakdown of fats, carbohydrates and protein. Capsule delivery ensures fast action.
Adult Dosage: Take 1 capsule 1-3 times daily with or immediately before a meal/food. Consult a health care practitioner for use beyond 4 weeks. Use the smallest effective dose which controls symptoms.
Each capsule contains:

Betaine Hydrochloride 200 mg
Pancrealipase (Sus scrofa)(Pancreas)  134.5 mg
Supplying: Amylase 37,000 USP units
                       Protease 37,000 USP units
                       Lipase 3,000 USP units
Fruit Bromelain 40 mg (120 GDU; 1800 M FCC PU)
(Ananas comosus) (Fruit)
Cellulase (Aspergillus niger) 100 mcg (12 FCC CU)
Papain (Carica papaya) (Whole Plant) 2 mg (100,000 FCC PU)
Aspergillopepsin (Aspergillus niger) 10 mg (50 FCC SAPU)
Papaya (Carica papaya)(Fruit) 45 mg
Ox Bile (Bos taurus) (Gall Bladder) 100 mg
Supplying: Cholic Acid 45 mg



Non-Medicinal Ingredients: Cellulose, Capsule (gelatin, water), Magnesium Stearate (vegetable source), Silica.