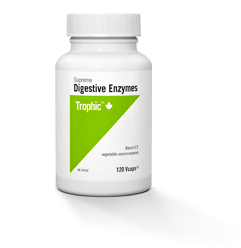 Supreme Digestive Enzymes - 60vcaps - Trophic
Trophic Supreme Digestive Enzymes
Our Supreme Digestive Enzymes are a synergistic blend of nine vegetable source enzymes in a base of plant fibre (microcrystaline cellulose) and standardized in International FCC units of activity. This special formula enhances and normalizes digestion and bowel function and increases absorption of nutrients from foods and supplements. Our naturally synthesized enzymes break down food, allowing the body to effectively utilize and absorb all the nutrients that are present. It also improves food allergies and intolerances by breaking down molecules that can aggravate inflammatory conditions. Amylase and glucoamylase digest all carbohydrates. Invertase digests sugars. Malt diastase is used for the digestion of grains, while Cellulase breaks down plant fibre. Lactase digests milk sugar, Lipase breaks down fat and Protease I & II digest proteins.
Medicinal Ingredients:
Amylase ………………… 4000 DU
Glucoamylase …………… 7.5 AGU
Invertase …………………. 125 SU
Protease I ……………… 7500 HUT
Protease II …………….. 2500 HUT
Malt Diastase …………… 300 DP°
Cellulase …………………. 400 CU
Lactase …………………… 500 ALU
Lipase …………………….. 250 FIP
All enzymes are expressed in FCC units of activity.
Non-Medicinal Ingredients:
Microcrystalline cellulose, hypromellose, magnesium stearate, silica.
Contains:
Wheat, milk.
Directions:
Adults, take 1-2 VcapsTM daily at meal time, or as recommended by a healthcare practitioner.
Recommended Use:
Digestive enzymes.
Duration of Use:
For prolonged use, consult a healthcare practitioner.
Cautions and Warnings:
Consult a healthcare practitioner prior to use if you are pregnant or breastfeeding. Consult a healthcare practitioner prior to use if you have diabetes or gastrointestinal lesions/ulcers. Consult a healthcare practitioner prior to use if you are taking anticoagulant agents, anti-inflammatory agents or before having surgery. Headaches, heartburn, bloating and hypersensitivity/allergy has been known to occur; in which case, discontinue use.
No added yeast, soy, sugar, corn, artificial colors or preservatives.