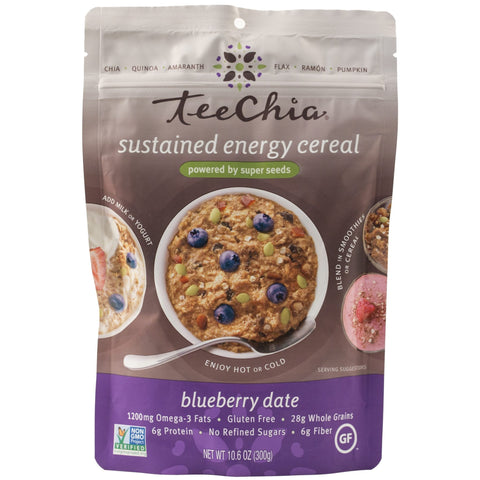 Teechia Blueberry Date Cereal - 300g - Teeccino
TEECHIA BLUEBERRY DATE CEREAL
Nutrient-dense super seeds in a delicious blend with gluten-free oats, blueberries and dates create a sustained energy cereal to keep you energized and satisfied all morning long.
• 6g fiber with a high percentage of soluble fiber to promote regularity
• 28g whole grains from organic quinoa, organic amaranth, and gluten-free oats.
• 1200mg ALA omega-3 essential fatty acids from organic chia, organic flax and organic pumpkin seeds
• Antioxidants from chia, ramon, oats, quinoa, blueberries and dates
• 6g protein
Gluten-Free & No Added Sugar
Ingredients: Organic Super Seed Blend (organic quinoa flakes, organic amaranth flakes, organic milled chia seeds, organic milled flax seeds (golden brown), organic pumpkin seeds, organic raw roasted ramón seeds) gluten-free rolled oats, dates (dates, rice flour), organic Zante currants (currants, sunflower oil), dried blueberries, (blueberries, apple juice), natural blueberry flavor. Packaged in a facility that also handles tree nuts.
Directions: There are so many ways to enjoy TeeChia! Here are a few suggestions:
HOT LIKE OATMEAL:
Place about 1/2 cup (50g) of TeeChia in a cereal bowl.
Add 1/2 cup hot water and stir to mix throughly.
Let soak in for a minute
Add milk or yogurt as desired
Add fresh berries or chopped fruit as desired
COLD & CREAMY:
Place about 1/2 cup (50g) of TeeChia in a cereal bowl.
Add cold milk, kefir, or yogurt
Stir to mix thoroughly.
Add fresh berries or chopped fruit for extra sweetness and nutrients
SMOOTHIE:
Add TeeChia to your smoothie to add body and nutrients
Blend with all other ingredients
CRUNCHY:
Add TeeChia to granola or cereal flakes to increase their nutrition
Add nuts to TeeChia for more crunchiness
OPTIONAL:  Honey, maple syrup or a natural non-caloric sweetener like stevia can sweeten TeeChia if desired. Juice can be an alternative for milk too!
---
We Also Recommend