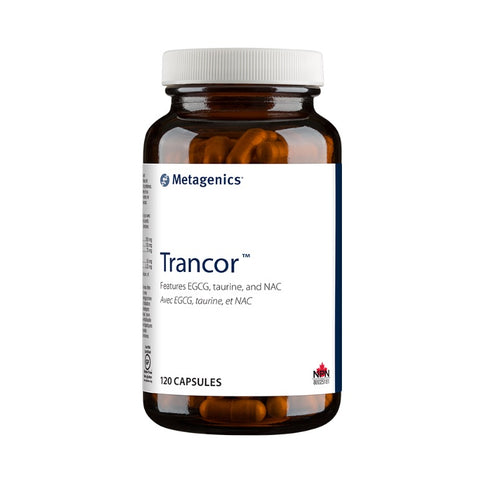 Trancor - 120caps - Metagenics
Metagenics Trancor
Features EGCG, taurine, and NAC.
Non-Medicinal Ingredients: Hypromellose, cellulose, silicon dioxide, and magnesium stearate (veg).
Recommended Dose: Adults (19 years +) take 4 capsules daily with meals providing protein or as recommended by your healthcare practitioner. Consult a health care practitioner for use beyond 12 weeks.
Recommended Use: Magnesium and vitamin B6 are both factors in the maintenance of good health, help the body to metabolize carbohydrates, fats and proteins and help in tissue formation. Magnesium helps in the development and maintenance of bones and teeth and helps with proper muscle function. Vitamin B6 helps to prevent vitamin B6deficiency. Green tea extract and N-acetyl-L-Cysteine are sources of antioxidants for the maintenance of good health.
Caution: Consult a healthcare practitioner prior to use if you are pregnant or breastfeeding, if you have a liver disorder, an iron deficiency, or if you have cystinuria. If you are taking nitroglycerin, or if you are taking antiobiotics please consult your healthcare practitioner before use. Stop use if you develop symptoms of liver trouble such as yellowing of the skin/eyes (jaundice), stomach pain, dark urine, sweating, nausea, unusual tiredness and/or loss of appetite and consult a healthcare practitioner. Rare, unpredictable cases of liver injury associated with green tea extract-containing products have been reported (in Canada and internationally). Consult a healthcare practitioner beyond 12 weeks. Do not use if perma seal is missing.
This product is non-GMO and gluten-free.
| Medicinal Ingredients | Amount |
| --- | --- |
| Each capsule contains: |   |
| Taurine | 250 mg |
| N-Acetyl-L-Cysteine | 150 mg |
| Green Tea (Camellia sinensis) leaf extract standardized to 60% catechins and 40% EGCG | 75 mg |
| Magnesium (magnesium malate) | 50 mg |
| Vitamin B6 (pyridoxine HCI) | 6.25 mg |