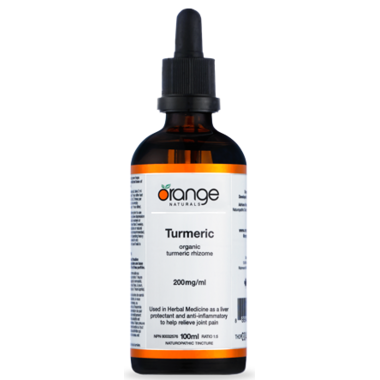 Turmeric - 200mg - 100ml - Orange Naturals
Orange Naturals Turmeric Tincture
Orange Naturals Turmeric Tincture contains turmeric.If your joints feel tight and inflamed then give come consideration to turmeric. Research has shown that it works on joint pain in the same way that anti-inflammatory drugs do but without the side effects! Turmeric is also known as curcumin. Turmeric is a cooking spice and has been used in Ayurvedic medicine for centuries. There is a long-standing tradition in India of using turmeric to prevent and treat inflammatory conditions of the joints.
Recommended Use: Used as an anti-inflammatory to help relieve joint pain.
Directions: Adults: take 2 mL, 3 times per day.
Ingredients: Each mL contains: Turmeric (Curcuma longa, 1:5 rhizome extract) 200mg.
Non-Medicinal Ingredients: 40% grain alcohol; purified water.   

Cautions and Warnings: Consult a healthcare practitioner prior to use if you are pregnant or if you have gallstones, a bile duct obstruction, stomach ulcers, or excess stomach acid.
---
We Also Recommend