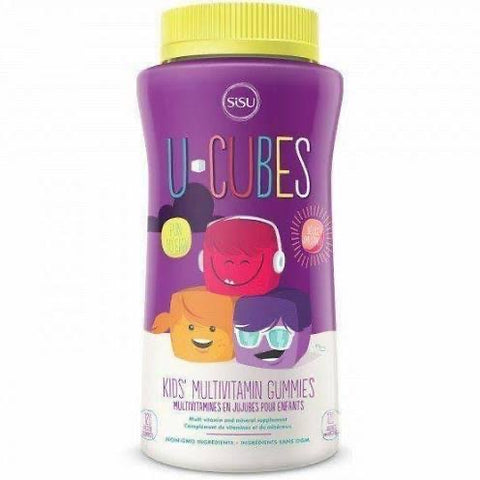 U-Cubes Multivitamin - 120 gummies - Sisu
Great-tasting, all-natural, pectin-based gummy multivitamin and mineral.
Great-tasting Sisu U-Cubes™ gummies provide the important vitamins and minerals children need, in a chewy daily formula specially designed for their growing bodies and minds. With kid-friendly flavours of grape, cherry and orange in each bottle, these pectin-based gummies contain no animal gelatin, high-fructose corn syrup or artificial flavours, sweeteners and colours.
Benefits
Chewy multivitamin treats kids will love
Pectin-based gummies, no animal gelatin
No artificial flavours, sweeteners, or colours
Medicinal ingredients
Vitamin A (vitamin A palmitate) 113 mcg RAE(375 IU)

D-pantothenic acid (calcium D-pantothenate) 1.25 mg

Vitamin B6 (pyridoxine hydrochloride) 0.25 mg

Vitamin B12 (cyanocobalamin) 0.6 mcg

Folic acid (folate) 25 mcg

Vitamin C (ascorbic acid) 7.5 mg

Vitamin D3 (vitamin D, cholecalciferol) 3.75 mcg (150 IU)

Vitamin E (d-alpha tocopheryl acid succinate) 2.35 mg AT (3.5 IU)

Iodine (potassium iodide) 15 mcg
Non-medicinal ingredients
Dicalcium phosphate, tricalcium phosphate, magnesium citrate, maltodextrin, inositol, silicon dioxide, D-mannitol, sugarcane juice, tapioca syrup, purified water, pectin, citric acid, maqui berry, black carrot juice, turmeric, natural grape flavour, natural cherry flavour, natural orange flavour
Dosage
Children (2-8 years): Chew 2 gummies 1 time per day; Children (9-13 years): Chew 4 gummies 1 time per day. Take with food. Take a few hours before or after taking other medications
Contains no
Dairy, wheat, gluten, artificial colours, artificial flavours, or artificial preservatives