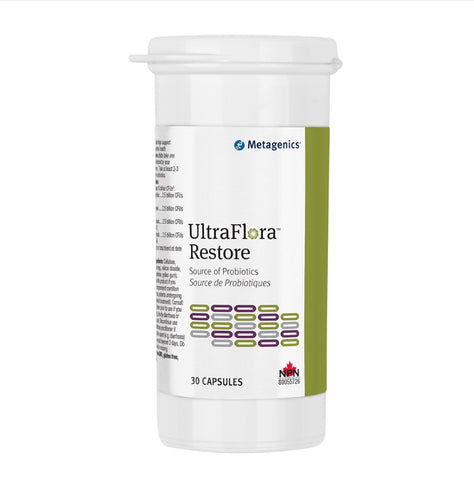 Ultra Flora Restore - 30caps - Metagenics
Metagenics Ultra Flora Restore
Supports gastrointestinal health.
Non-Medicinal Ingredients: Cellulose, hypromellose, magnesium stearate (veg), and silicon dioxide.
Recommended Dose: Adults take 1 capsule daily or as directed by your healthcare practitioner. Take at least 2-3 hours before or after antibiotics.
Recommended Use: Source of probiotics to help support intestinal and gastrointestinal health. Helps promote a favourable gut flora.
Caution: Do not use this product if you have an immune-compromised condition (e.g. AIDS, lymphoma, patients undergoing long-term corticosteroid treatment). Consult a healthcare practitioner prior to use if you have fever, vomiting, bloody diarrhoea or severe abdominal pain. Discontinue use and consult a healthcare practitioner if symptoms of digestive upset (e.g. diarrhea) occur, worsen, or persist beyond 3 days. Do not use if perma seal is missing.
This product is non-GMO, gluten-free, and vegetarian.
Medicinal Ingredients:
Each capsule contains 20 billion CFUs†:
Bifidobacterium animalis
5 billion CFUs subsp. lactis (Bi-07)††
Bifidobacterium animalis
5 billion CFUs subsp. lactis (Bl-04)
Lactobacillus paracasei (Lpc-37)
5 billion CFUs
Lactobacillus acidophilus (NCFM)††