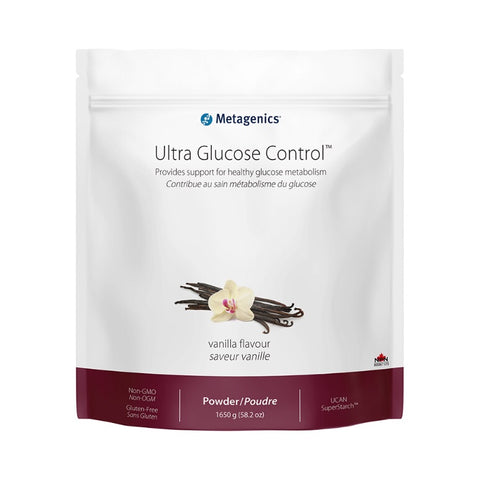 Ultra Glucose Control - Vanilla 1650g - Metagenics
Metagenics Ultra Glucose Control
Helps to maintain normal blood glucose levels.
Non-Medicinal Ingredients: Sunflower oil, natural flavours, erythritol, evaporated cane juice, isomaltooligosaccharide, silicon dioxide, L-leucine, Chinese cinnamon, guar gum, L-isoleucine, L-valine, xanthan gum, rebaudioside A, and rosemary extract.
Recommended Dose: Adults blend, shake, or briskly stir 2 level scoops (55 grams) of Ultra Glucose Control with 296-355 mL (10-12 fl. oz.) of chilled water 1-2 times daily or
as directed by your healthcare practitioner. Consume within 10 minutes of reconstitution. Take a few hours before or after taking other medications.
Recommended Use: Provides support for healthy glucose metabolism.
Caution: Do not use if you are pregnant or breastfeeding. Consult a healthcare practitioner prior to use if you have a kidney disorder and/or diabetes. Consult a healthcare practitioner for use beyond 6 months.
This product is non-GMO and gluten-free.
| Information Per Serving | Amount |
| --- | --- |
| One Serving (2 level scoops) | 54 g |
| Servings per Container | 14 |
| Calories | 210  |
| Fat | 8 g  |
| Sodium | 180 mg  |
| Carbohydrate | 26 g  |
| Dietary Fibre | 4 g  |
| Medicinal Ingredients |   |
| Waxy Maize Starch† (Zea mays) | 15 g  |
| Pea Protein (Pisum sativum) | 10 g  |
| Rice Protein | 2 g  |
| Magnesium (magnesium citrate) | 210 mg  |
| Vitamin C (ascorbic acid) | 30 mg  |
| Zinc (zinc gluconate) | 16 mg  |
| Vitamin E (d-alpha tocopheryl acetate) | 5 mg AT |
| Niacinamide | 5 mg  |
| Pantothenic Acid (calcium d-pantothenate) | 2.5 mg  |
| Manganese (manganese gluconate) | 2 mg  |
| Copper (copper gluconate) | 1.5 mg  |
| Vitamin B6 (pyridoxine HCl) | 0.5 mg  |
| Riboflavin | 426 mcg  |
| Vitamin A (retinyl palmitate) | 375 mcg  |
| Thiamin (thiamin HCl) | 375 mcg  |
| Folate (calcium L-5-methyltetrahydrofolate)†† | 185.2 mcg  |
| Chromium (chromium picolinate) | 120 mcg  |
| Biotin | 75 mcg  |
| Selenium (selenomethionine) | 52.5 mcg  |
| Iodine (potassium iodide) | 37.5 mcg  |
| Vitamin D (cholecalciferol) | 10 mcg  |
| Vitamin B12 (methylcobalamin) | 1.5 mcg |