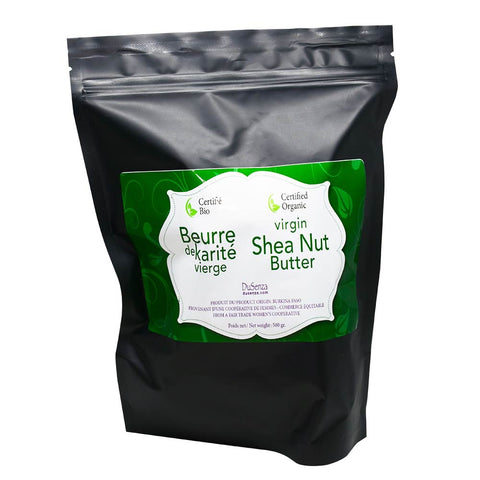 Virgin Shea Nut Butter Organic - 500g - DuSenza
DuSenza Virgin Shea Nut Butter Organic 500g
Shea butter protects the body in winter and summer: it protects the face, hands, lips, hair, feet, the whole body from the effects of the environment (wind, cold, sun). Shea Butter has powerful regenerative and restorative powers of the skin with vitamins A, D, E and F which it contains naturally. Shea butter soothes, protects, nourishes and softens the skin, which helps to keep a young and healthy looking skin. It fights wrinkles, dryness. It is widely used in Africa for body massages.
Shea butter is recommended for:
Moisturizing the skin, healing wounds, restoring elasticity,
Sunscreen, delays aging of facial wrinkles (vitamin E),
Prevents stretch marks for pregnant women and skin crevices when breastfeeding,
Protect the hair and restores health to dull or brittle hair,
Feet dry with roughness.
It is also beneficial to:
Skin which does not tolerate chemical based cosmetics, extremely dry skin, itchy skin, rash, eczema, psoriasis, skin allergies, damaged skin, problem with the scalp such as itching, dandruff, insect bites.
Please note: This is a natural and unprocessed product that is handcrafted without the use of sophisticated machinery and therefore, the possible presence of some impurities cannot be excluded. Although batches vary to some extent, this product usually has a very strong nutty, pungent, oily aroma that is characteristic of a pure & natural Shea Butter from Ghana. Also present will be various natural inconsistencies in color including darker spots and grey streaks. It is solid at room temperature and rather hard in consistency.
---
We Also Recommend