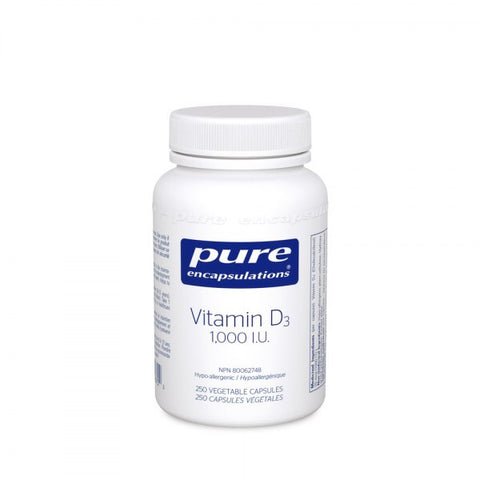 Vitamin D3 1000IU - 120vcaps - Pure Encapsulations
Pure Encapsulations Vitamin D3 1000 IU
Provides 1000 IU of vitamin D3 per day
Convenient once-daily capsule format
Vitamin D3 enhances calcium absorption and retention, a key nutritional function in supporting healthy bones and teeth. Decreased exposure to sunlight, a vegetarian diet and a low intake of vitamin D-fortified foods often contribute to inadequate vitamin D levels. Clinical studies involving vitamin D supplementation suggest the importance of both vitamin D and calcium for bone health. Calcium intake, when combined with sufficient vitamin D, a healthy diet and regular exercise, may reduce the risk of developing osteoporosis. Vitamin D supplementation alone also supports bone health. It promotes intestinal calcium and phosphorous absorption, and reduces urinary calcium loss, essential mechanisms for maintaining proper calcium levels in the body and healthy bone composition.
Recommended Use: A factor in the mainte- nance of good health. Helps in the development and maintenance of bones and teeth. Helps to prevent vitamin D deficiency.
Recommended Dose: Children (6-12 years), Adolescents (13-17 years) and Adults: Take 1 capsule daily or as directed by a healthcare practitioner.
Medicinal Ingredients (per capsule): Vitamin D3 (Cholecalciferol) 25 mcg (1000 I.U.).
Non-Medicinal Ingredients: Hypo-allergenic plant cellulose, Hydroxy propyl methylcellulose, Purified water.
---
We Also Recommend