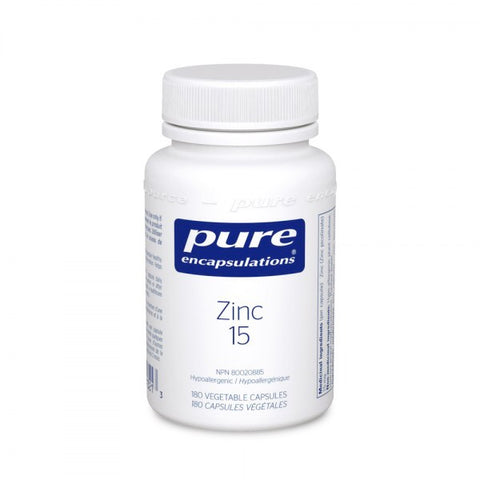 Zinc 15 - 180vcaps - Pure Encapsulations
Pure Encapsulations Zinc 15
Zinc plays an important role in supporting the body's defense system, and is related to the normal absorption and actions of the B vitamins. It is a constituent of over two dozen enzymes involved in digestion and metabolism, including carbonic anhydrase which is vital to tissue respiration. Zinc is essential for the healthy storage and metabolism of carbohydrates. Zinc plays a fundamental role in collagen formation and healthy tissue development. This mineral is also essential for normal fetal and reproductive development, and it contributes to healthy prostatic function.
Recommended Use: Helps to maintain healthy skin. Helps in connective tissue formation. Helps
to maintain immune function.
Recommended Dose: Take 1 capsule daily with food. Take a few hours before or after taking other medications. Consult a healthcare practitioner for use beyond 3 months.
Medicinal Ingredients (per capsule): Zinc (Zinc picolinate) 15 mg.
Non-Medicinal Ingredients: Hypo-allergenic plant cellulose, Hydroxy propyl methylcellulose, Purinfield water.
---
We Also Recommend