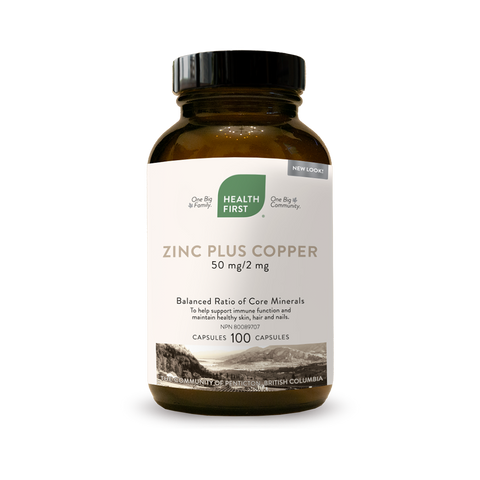 Zinc Plus Copper 50mg - 100caps - Health First
Health First Zinc Citrate (50mg) plus copper 2mg
Product Brief: Zinc is an important mineral for health maintenance. It is involved in immune functions, wound healing, sensory functions, sexual functions and skin health. Zinc helps to strengthen the immune system and to ward off infections. Specifically, a Zinc deficiency reduces the number of Tcells affecting the functioning of white blood cells. Like Vitamin C, Zinc has antiviral properties. Zinc is needed for cellular growth and plays a major role in wound-healing
Zinc deficiencies can disrupt normal sexual functioning in males. Both prostate enlargement and male infertility due to low sperm count are associated with a Zinc deficiency. Sufficient Zinc is required for proper vision, taste and smell. A Zinc deficiency can result in impaired sensory functioning. Zinc is also important to maintaining healthy skin and helps
to treat acne conditions.
Medicinal Ingredient:
Each capsule contains:
Zinc (ZincCitrate) 50 mg
Copper 2mg
Non-medicinal ingredients:
Dicalcium phosphate dihydrate, magnesium stearate,capsule shell (from gelatin and purified water).
Dosage: Adults take one capsule daily or as directed by a health professional.
Free from: artificial flavours, artificial colours, corn,gluten, wheat, lactose, preservatives, soy, added sugar and yeast.
---
We Also Recommend