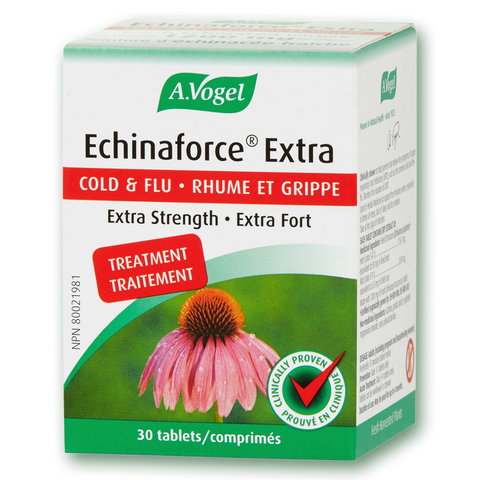 A.Vogel Echinaforce Extra 30tabs
A.Vogel Echinaforce Extra
A.Vogel Echinaforce Extra:
Made with 1200 mg of Fresh Echinacea tincture per tablet.
Can be taken by pregnant and breast feeding women
Sugar- and gluten-free
Echinacea purpurea is known for its antiviral, antibacterial and anti-inflammatory properties
Organic cultivation certified by Bio Suisse
Take at the first sign of infection.
Efficacy clinically proven
Clinically shown to help prevent and relieve the symptoms of upper respiratory tract infections (URTI), such as the common cold and the flu. Shortens the duration of URTI. Used in Herbal Medicine to support the immune system, especially in times of stress, lack of sleep and for smokers. Take at first sign of infection.
Echinaforce® Extra is a higher strength echinacea tablet compared to our original echinacea tablets. It is made from the same herbal extract of freshly harvested, organically grown Echinacea purpurea that goes into our well-known Echinaforce® Echinacea drops and tablets.
Medicinal ingredient: Fresh organically grown* Echinacea (Echinacea purpurea) Herb (ratio 5.4:1) ...17.67 mg, equivalent to 95 mg of organically grown* dried herb; Root (ratio 5.9:1) ...0.93 mg, equivalent to 5.5 mg of organically grown* dried root.
Non-medicinal ingredients: Lactose, starch, vegetable magnesium stearate, soya polysaccharides.* Certified by Bio Suisse 
---
We Also Recommend