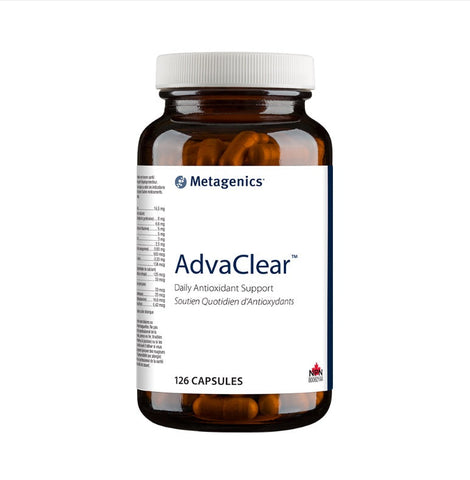 AdvaClear - 126caps - Metagenics
Metagenics AdvaClear
Daily Antioxidant Support.
Non-Medicinal Ingredients: Hypromellose, cellulose, sodium sulfate, stearic acid (veg), and silicon dioxide.
Recommended Dose: Adults take 1 capsule 3 times daily with meals or as directed by your healthcare practitioner. Take a few hours before or after taking other medications. Use for a minimum of 3 weeks to see beneficial effects.
Recommended Use: As a source of antioxidants for the maintenance of good health. Milk Thistle is traditionally used in herbal medicine as a hepatoprotectant.
Caution: For adult use only. Do not use if you have a bile duct obstruction or are allergic to plants of the Asteraceae/Compositae/Daisy family. Do not use if you are taking antibiotics or nitroglycerin. Consult a healthcare practitioner prior to use if you have gallstones, kidney stones, an iron deficiency, liver disorder or develop symptoms of liver trouble such as yellowing of the skin/eyes (jaundice), stomach pain, dark urine, sweating, nausea, unusual tiredness and/or loss of appetite, or if symptoms persist or worsen. If pregnant or breastfeeding, consult a healthcare practitioner prior to use. People sensitive to nicotinic acid may experience flushing of the skin that is generally mild and transient. Rare, unpredictable cases of liver injury associated with green tea extractcontaining products have been reported (in Canada and Internationally). Hypersensitivity (e.g. allergy) has been known to occur; in which case, discontinue use. Consult a healthcare practitioner for use beyond 12 weeks. Do not use if perma seal is missing.
This product is non-GMO and gluten-free.
Ingredients: Each capsule contains: Artichoke (Cynara scolymus L.) 10:1 leaf extract equivalent to 830 mg of artichoke 83 mg Vitamin C (ascorbic acid)66 mg Watercress (Nasturtium officinale) 4:1 aerial parts extract equivalent to 264 mg of watercress 66 mg Taurine58 mg Milk Thistle (Silybum marianum) seed extract standardized to 50% silymarin 50 mg Pomegranate (Punica granatum) 9:1 whole fruit extract equivalent to 378 mg of pomegranate42 mg N-Acetylcysteine33 mg Green tea (Camellia sinensis) leaf extract standardized to 60% catechins and 40% EGCG 28 mg Vitamin E (d-alpha-tocopheryl succinate)22 mg ATPantothenic Acid (calcium d-pantothenate)16.5 mgVitamin B6 (pyridoxine HCl) 8 mg Niacinamide6.6 mgThiamin (thiamin mononitrate)5 mg Niacin5 mgZinc (zinc citrate)3 mg Riboflavin2.5 mgManganese (manganese citrate)0.83 mg Beta-Carotene500 mcgCopper (copper citrate)0.33 mg Folate (calcium L-5-methyltetrahydrofolate)134 mg Vitamin A (retinyl palmitate)125 mcg Molybdenum (hydrolyzed vegetable protein)33 mcg Biotin33 mcg Selenium (selenomethionine)25 mcgVitamin B12 (methylcobalamin) 16.6 mcg Vitamin D (cholecalciferol) 0.42 mcg 
---
We Also Recommend