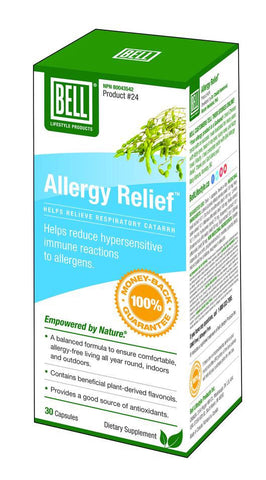 Allergy Relief - 30caps - Bell
BELL Allergy Relief 30caps
Helps promote a normal immune response to allergens.*
A balanced formula to help combat allergens all year round, indoors and out.*
Holy basil is traditionally used in Ayurveda as an expectorant to help remedy respiratory catarrh (discharge or build-up of mucus in the throat, nose and sinuses).*
Helps modulate the body's inflammatory response.*
Provides antioxidants.
With beneficial plant-derived flavonols.
GMO Free and Allergen Free. 
Are your allergies causing you to miss out on outdoor activities or even daily responsibilities? Allergic reactions are often unexpected and can occur during any season. It kicks in when the immune system triggers chemicals, particularly histamines, to attack foreign substances perceived by the body as harmful. 

Our natural allergy formula is a perfect supplement to have all-year-round, in case of unexpected allergic reactions, particularly during high allergy seasons like spring and summer. It is a natural allergy aid that blends renowned and science-backed phytonutrients that help to optimize immune system health.
Ingredients: Lobelia (Lobelia inflata) (whole plant) 130 mg, Lemon balm extract 10:1 (Melissa officinalis) (leaf) 100 mg, Quercetin (from sophora japonica) (seed) 118 mg, Holy basil extract 10:1 (Ocimum tenuiflorum) (leaf) 100 mg, Perilla extract 10:1 (Perilla frutescens) (seed) 75 mg, Rosemary extract 10:1 (Rosmarinus officinalis) (leaf) 50 mg, Sage extract 20:1 (Salvia officinalis) (leaf) 50 mg, Peppermint extract 10:1 (Mentha x piperita) (leaf) 50 mg.
---
We Also Recommend