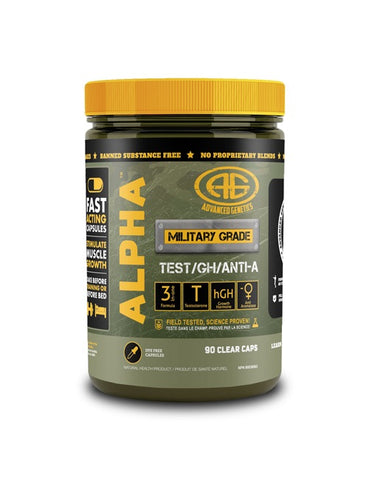 ALPHA-Test/GH/Anti-A - 90caps - Advanced Genetics
Advanced Genetics ALPHA – Test/GH/Anti-A
The World's Strongest (Legal) Anabolic Hormone Optimizer
Be the ALPHA Male! ALPHA™ revolutionizes hormone optimization. The cutting-edge ingredients are clinically proven to boost testosterone, increase growth hormone and libido levels. They will amplify the anabolic muscle building process. The result: increased lean mass, strength, and muscle hardness.
ALPHA WILL:
spike free testosterone
increase growth hormone (hgh)
reduce estrogen
improve libido and sexual performance
stimulate muscle growth
increase protein synthesis
boost nitric oxide levels
trigger fat loss
decrease breakdown of amino acids
fire up metabolism
HOW TO USE:
ALPHA can be taken either: Before training – prime your body's testosterone and growth hormone for optimal growth and recovery. You will experience higher than normal aggressiveness in the gym, extreme focus, and intensified pumps.
Before bed –  send your anabolic hormone levels through the roof while you sleep creating the optimal environment for muscle growth.
Ingredients:
ALPHA-TEST™ – increases free testosterone. Testosterone is the key anabolic hormone responsible for rapid muscle growth and elevated libido.
Fenugreek Extract – boosts free testosterone.
Epimedium – effectively increases testosterone, increases sex drive, boosts nitric oxide levels and is a PDE5 inhibitor, like the pharma drug "V".
Tribulus –  increases testosterone via luteinizing hormone (LH) and follicle-stimulating hormone (FSH).
ALPHA-DEX™ – reduces estrogen. Estrogen is the "female hormone" and by limiting its conversion allows for more muscle-building testosterone to circulate.
Hesperidin – this citrus flavonoid inhibits the aromatase enzyme, blocking the conversion of testosterone to estrogen.
ALPHA-TROPIN™ – increase growth hormone (HGH). This stimulates protein anabolism, enhances fat loss and regulates carbohydrate metabolism.
Alpha-GPC – is a powerful secretagogue.
Melatonin – effectively boosts pituitary output.
---
We Also Recommend