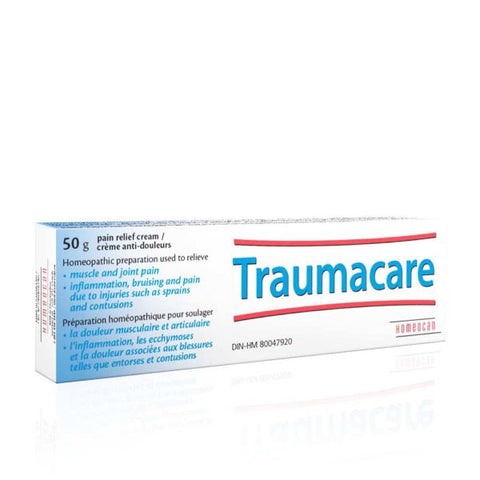 Traumacare Cream - 50g - Homeocan
Homeocan Traumacare Cream 50 g
With Traumacare Cream, pain relief is just a click away!
Dealing with pain on a daily basis or even occasionally can be a nuisance and an obstacle in the way of leading an unrestricted life.
Traumacare cream provides effective relief for:
– muscle and joint pains
– inflammation
– minor injuries such as sprains, and contusions.
Furthermore, this product is non-greasy, does not stain, and is unscented.
Medicinal ingredients:
Aconitum napellus 3X/D3
Arnica montana 3X/D3
Belladonna 3X/D3
Bellis perennis 2X/ D2
Calendula officinalis 2X/D2
Chamomilla 2X/D2
Echinacea 2X/D2
Echinacea purpurea 2X/D2
Hamamelis virginiana 2X/D2
Hepar sulfuris calcareum 8X/D8
Hypericum perforatum 6X/D6
Mercurius solubilis 8X/D8
Millefolium 2X/D2
Symphytum officinale 4X/D4
Non medicinal ingredients:
Purified water
White petrolatum
Cetostearyl alcohol
Ceteareth-20
Mineral oil
Chlorocresol
Dosage: Adults and children over 2 years of age: General: Apply a thin layer to the affected area 2 to 3 times a day by gently massaging. Acute: Apply more often if necessary. Or use as directed by a health practitioner.
---
We Also Recommend