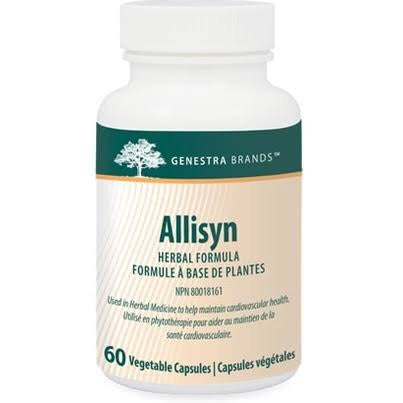 Allisyn - 60vcaps - Genestra
Genestra Allisyn
Garlic bulb and cinnamon bark combination
• Used in Herbal Medicine to help maintain cardiovascular health and reduce elevated blood lipid levels in adults
• Provides 10 mg of allicin per daily dose
• Includes 80 mg of cinnamaldehyde per daily dose

Allisyn is a blend of allicyn and cinnamaldehyde that is traditionally used to help support cardiovascular health. The main bioactive compound in garlic is allicin.1 When broken down, this sulfur containing compound is responsible for the characteristic odor of garlic.1 Recent research indicates that long term garlic consumption may be effective at decreasing total cholesterol levels in individuals with higher baseline values.1 Garlic helps to decrease elevated lipid levels by inhibiting cholesterol synthesis and LDL oxidation in the liver.1 In a randomized, placebo-controlled trial involving 150 hyperlipidemic adults, daily supplementation with 800 mg of garlic powder capsules (providing 2 mg of allicin) for six weeks significantly decreased total and LDL cholesterol by approximately 12 and 17%, respectively.2 Similarly, in vitro research demonstrates that cinnamaldehyde decreases mRNA levels of PPAR-γ and SREBP1, transcription factors that regulate lipid synthesis and storage.3 Both cinnamaldehyde and garlic help maintain endothelial cell function by decreasing lipid peroxidation and by inhibiting the pro-inflammatory activities of the transcription factor NFκB.
Recommended Adult Dose: Take one capsule two times daily with meals, or as recommended by your healthcare practitioner. Risk Information: If you are pregnant or breastfeeding; if you have stomach or duodenal ulcers or a fever of unknown origin, do not use. If you are taking blood thinners or protease inhibitors; or if you have diabetes, consult your healthcare practitioner prior to use. If hypersensitivity (allergic) reaction occurs, discontinue use. Guaranteed to contain no added wheat, yeast, gluten, corn, sodium, sugar, artificial colouring or flavouring, antimicrobial preservatives, dairy or animal products. Ideal for vegans. 
Each Capsule Contains:
Garlic (Allium sativum) Bulb Powder 500 mg Providing: Allicin 5 mg Cinnamon (Cinnamomum verum) Bark 200 mg Providing: Cinnamaldehyde 40 mg
---
We Also Recommend