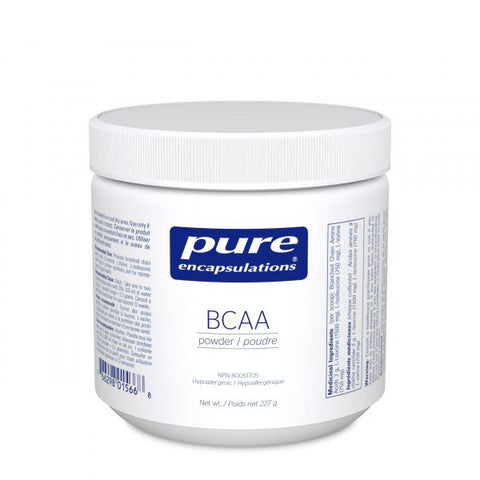 BCAA - 227g - Pure Encapsulations
Pure Encapsulations BCAA Powder 
Provides branched chain amino acids involved in protein synthesis
Includes 3 g of branched chain amino acids per scoop
BCAA provides the branched chain amino acids leucine, isoleucine and valine. Branched chain amino acids are unique in that they are not broken down by the liver; they are primarily metabolized in skeletal muscle cells. These amino acids stimulate protein synthesis necessary for muscle formation. Studies have reported that post-exercise protein intake helps to enhance the repair of muscle protein. Specifically, research has shown that branched chain amino acid intake after resistance exercise results in a positive protein balance (a greater rate of protein synthesis than breakdown). One trial found a greater level of protein synthesis after a resistance workout when leucine was added to the amino acid mixture than a protein formula without leucine. Branched chain amino acids also stimulate protein synthesis in muscle to help in the recovery period after endurance exercise.
Recommended Use: Provides branched chain amino acids (L-Leucine, L-Valine, L-Isoleucine) which help in protein synthesis and for mainte-
nance of good health.
Recommended Dose: Adult: Take one to two rounded scoops daily with 250–300 ml of water or juice. 1 rounded scoop = 3.3 grams. Consult a healthcare practitioner for use beyond 12 weeks.
Medicinal Ingredients (per scoop): Branched Chain Amino Acids 3 g, L-Leucine (1500 mg), L-Isoleucine (750 mg), L-Valine (750 mg).
---
We Also Recommend