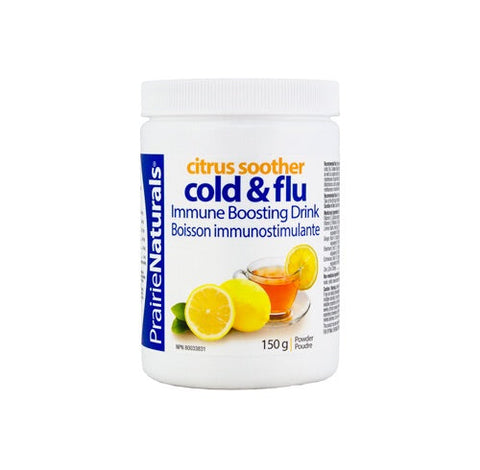 Citrus Soother - 150g - Prairie Naturals
PRAIRIE NATURALS CITRUS SOOTHER
Formulated by Holistic Pharmacist RoseMarie Pierce
Therapeutic hot lemon, honey & ginger drink powder
Fortified with elderberry, lemon balm & Echinacea
Natural cold & flu prescription
Includes immune-boosting zinc
Soothing & protective effect
Contains vitamins C & D
Delicious & instant
Good for all ages
Gluten-free
Immune Boosting Drink
Your Natural Cold & Flu Prescription! When it comes to fighting colds and flu, nothing has a more soothing and protective effect than a hot lemon, honey and ginger drink. Add the therapeutic, healing power of Vitamins C & D, along with immune-boosting zinc, elderberry, lemon balm, and Echinacea root. Now you have Citrus Soother – a safe, delicious, instant natural cold and flu remedy formulated by Holistic Pharmacist RoseMarie Pierce, BSc.Pharm.
Recommended for people of all ages. Tested gluten-free. Does not contain soy, dairy, egg, corn, artificial colours, sweeteners or preservatives.
Recommended Use or Purpose: Helps to relieve the symptoms and shorten the duration of upper respiratory tract infections (e.g. common colds, flu). 
Recommended Dose: Take 1 rounded scoop (10g) in 250 ml of hot (not boiling) water and drink, once a day. Take at the first sign of infection or flu. Take with food. Take a few hours before or after taking other medications.
Duration of Use: Consult a health care practitioner for use beyond 8 weeks.
Medicinal Ingredients: Each 10 g serving contains:
Vitamin C (Calcium Ascorbate)  –  500 mg
Vitamin D (Vitamin D3, Cholecalciferol)  –  25.0 mcg (1000 IU)
Lemon Balm, herb top 10:1 Extract( Melissa officinalis L.)  –  300 mg
equivalent to 3000 mg of Lemon Balm herb
Ginger, Root 4:1 Extract (Zingiber officinale)  –  187.5 mg
equivalent to 750 mg of Ginger root
Elderberry, fruit 15: 1 Extract (Sambucus nigra)  –  100 mg
equivalent to 1500 mg of Elderberry fruit
Echinacea, Root 10:1 Extract (Echinacea purpurea)  –  90 mg
equivalent to 900 mg of Echinacea Root
Zinc (Zinc Citrate)  –  5 mg
Non-medicinal ingredients: Honey powder, lemon powder 5:1 concentrate, natural maple flavour, inulin, xylitol, stevia extract, organic lemon flavour and silicon dioxide.
---
We Also Recommend