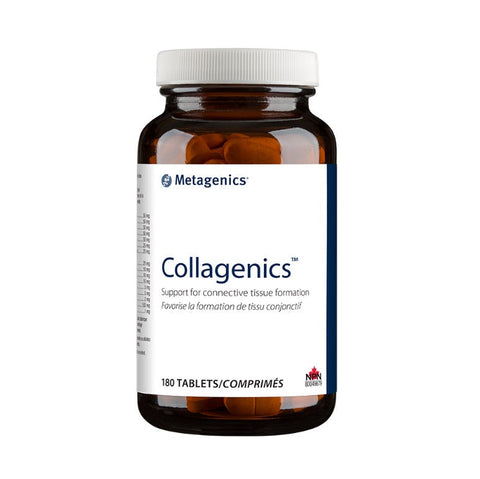 Collagenics - 180tabs - Metagenics
Metagenics Collagenics
Support for connective tissue formation
Non-Medicinal Ingredients: Cellulose, croscarmellose sodium, stearic acid (veg), silicon dioxide, magnesium stearate (veg), and coating (hypromellose, hydroxypropylcellulose, and medium-chain triglycerides).
Recommended Dose: Adults take 2 tablets 2 times daily or as directed by your healthcare practitioner. Take with food a few hours before or after taking other medications.
Recommended Use: Vitamin C helps in connective tissue formation and the maintenance of cartilage.
Caution: Consult your healthcare practitioner if you are pregnant or breastfeeding or if you have a liver disorder. Keep out of reach of children. Do not use if perma seal is missing.
This product is non-GMO and gluten- free.
Ingredients: Each tablet contains: Vitamin C (ascorbic acid)50 mgL- Proline50 mgL- Cystine50 mgMethylsulfo nylmethane50 mgL-Lysine (L-lysine HCI)50 mgMagnesium (magnesium bisglycinate)25 mgHorsetail (Equisetum arvense L.) 4:1 stem and leaf extract25 mg equivalent to 100 mg of horsetailAD- Xylose25 mgVitamin B6 (pyridoxine HCI)10 mgPantothenic Acid (calcium d-pantothenate)10 mgTaurine10 mg DUZinc (zinc citrate)5 mgAlpha- Ketoglutaric Acid5 mgIron (iron bisglycinate)2 mgManganese (manganese citrate)1.65 mgCopper (copper citrate)1 mg
---
We Also Recommend