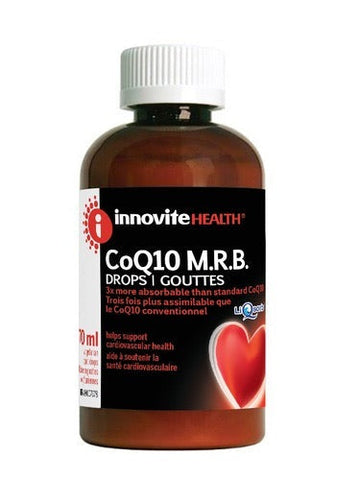 CoQ10 M.R.B. Drops 170ml- Innovite Health
INNOVITE HEALTH COQ10 M.R.B DROPS
Ingredients:
Each 1 mL Contains:
Medicinal Ingredients:
Hydrosoluble™ Coenzyme Q-10 (ubiquinone) 100 mg
Non-Medicinal Ingredients:
Purified water, medium chain triglycerides, soy lecithin, polysorbate 80, citric acid, potassium sorbate and alpha tocopherol. Contains ingredients derived from soy.
Innovite Health CoQ10 M.R.B. Drops
While every cell in the body requires Coenzyme Q10 (CoQ10) to produce energy, the cells in the heart require some of the most significant amounts.* Since the body converts ubiquinone into ubiquinol, there is an extra conversion step involved.* This conversion process generally declines as we age, hence ubiquinone is generally used for younger age groups and ubquinol for older age groups.*
Bio-enhanced natural CoQ10 in water soluble form (ubiquinone) has been formulated to provide Maximum Relative Bioavailability (M.R.B.). Coenzyme Q10 (CoQ10) is an important nutrient that every cell in your body must have in order to produce energy.* It is naturally found in the energy-producing center of the cell known as the mitochondria, the part of a cell responsible for the production of energy in the form of ATP (Adenosine triphosphate).* ATP serves as the cell's major energy source and drives a number of biological processes, including muscle contraction and the production of protein.* CoQ10 is involved in making this important molecule.*
Features:
Ideal for people that cannot have difficulties swallowing softgels
3X the absorption when compared with standard CoQ10 supplements*
Utilizes LiQSorb®, a bioavailability enhanced Coenzyme Q10*
Directions:
Take 1 ml (100 mg CoQ10) 1-3 times daily in water or any beverage.*
Warnings:
Consult a healthcare practitioner prior to use if you are pregnant or breastfeeding, or if you are taking blood pressure or blood thinning medications.
Cautions:
Sealed for your protection. Do not use if the seal is broken. Keep out of reach of children. Store in a cool and dry place to preserve freshness. Keep the bottle tightly closed.
---
We Also Recommend