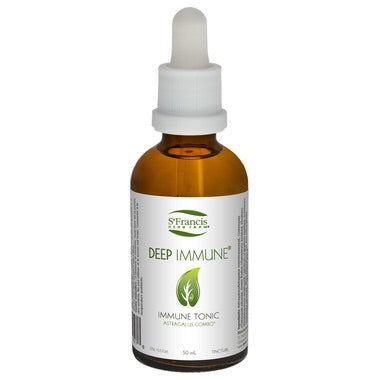 Deep Immune - Tincture 100ml - St. Francis Herb Farm
St. Francis Herb Farm Deep Immune Tincture 50ml/100ml
Skip the cold and flu this year with Deep Immune®. Clinically-tested master formula supports your immune system and keeps you healthy, happy, and energized, no matter the season.
Deep Immune®

At A Glance
Ideal all-around protective tonic

Boost your body's natural defenses

Prevent cold and flu symptoms
Formulated with potent adaptogens, Deep Immune combines the wisdom of Traditional Chinese Medicine with Western herbal extraction methods to offer you and your family the most trusted immune support, all in one easy formula. What's more, our Deep Immune blend enhances the vitality of all your bodily systems and organs for better health. Deep Immune has been a favorite for over 20 years, thanks to its effective, high-achieving ingredients.
What's in it? Think regenerating herbs like astragalus, codonopsis, eleuthero, harmonizing licorice, ligustrum, reishi mushroom, liver-protecting schisandra, and white atractylodes.
Who is it for? Anyone who wants to take a proactive approach to health. Support, nourish, and prevent with Deep Immune.
Suggested Usage: Adults: 0.8-1.3 ml (25-40 drops) 3-4x daily in a little water on an empty stomach

Medicinal Ingredients: Astragalus (Astragalus membranaceus), Codonopsis (Codonopsis pilosula), Reishi thallus (Ganoderma lucidum), Eleuthero (Eleutherococcus senticosus), Ligustrum (Ligustrum lucidum), Schisandra (Schisandra chinensis), White Atractylodes (bai zhu) (Atractylodes macrocephala), Licorice (Glycyrrhiza spp.)

Non-Medicinal Ingredients: Grain alcohol, Distilled water, Vegetable glycerine

Contraindication: Do not use if pregnant.
---
We Also Recommend