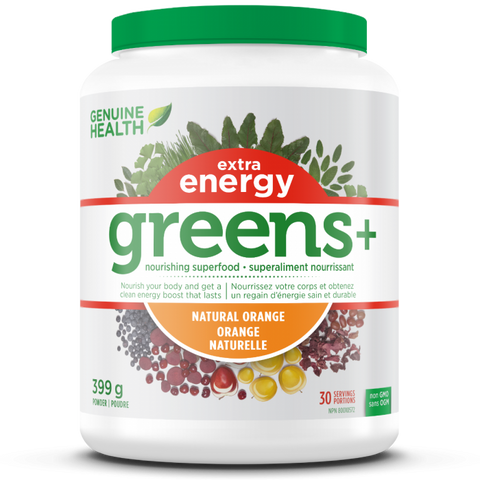 Greens+ Extra Energy - Natural Orange Flavour - 399g - Genuine Health
Genuine Health greens+ extra energy natural orange flavour 399g
Get more energy for your day with zero crash, while you boost your nutritional intake.
Just one scoop daily provides immediate, long-lasting energy, along with essential nutrients for a healthier, energized body – naturally. Formulated with the synergistic blend of naturally energizing greens+, plus taurine and naturally occurring caffeine from kola nut.
100% energy. 0% crash. All clean.
Whether it is first thing in the morning to wake you up, energize before your workout, or just to get over that 3pm workday slump, greens+ extra energy works to provide long-lasting energy – from all-natural sources. No sugary energy drinks or coffee necessary!
greens+ extra energy feeds you with all-natural energizing ingredients including taurine and naturally occurring 100mg caffeine from the kola nut, PLUS a full serving of energy-giving, antioxidant-rich and pH balancing greens+ in every scoop.
greens+ extra energy will nourish you while it energizes – for sustained and balanced energy. Just one serving daily provides immediate, long-lasting source of all-natural energy, increased vitality and mental clarity and no over-stimulation or energy "crash" side-effects.
No matter how hectic your days may be, greens+ extra energy will give you a boost every day. With the healthiest and most balanced source of long-lasting energy – naturally.
Recommended Use: To improve overall well-being, to (temporarily) promote alertness, wakefulness, enhance cognitive performance, relieve fatigue, increase endurance and enhance motor performance.
Adult Dosage: Mix 1 scoop (13.3 g) in 1½ cups (375 mL) of pure water. Shake well. If you are a new user of greens+, begin with 1/3 of a scoop daily and gradually increase to a full scoop daily over a 3 week period. Take with food. Consult a health care practitioner for use beyond 3 months.
Non-medicinal Ingredients: Stevia rebaudiana leaf extract, natural orange, natural mango and pineapple orange flavour blend, citric acid, malic acid.
Allergy Alert: May contain skim milk as part of probiotic culture.
greens+ extra energy contains no artificial colours, flavours or sweeteners. NON-IRRADIATED.
Caution: Not to be taken by children, during pregnancy, while breastfeeding, by those on medication or following a low protein diet, or by those with chronic health problems unless under the recommendation of a health care practitioner. Consult a health care practitioner prior to use if you have fever, vomiting, bloody diarrhoea or severe abdominal pain. Do not use if you have gastrointestinal blockage. Discontinue use and consult a health care practitioner if symptoms of digestive upset occur, worsen or persist beyond 3 days. Consumption with other caffeine-containing products, or natural health products or drugs which increase blood pressure is not recommended. This product is not intended as a substitute for sleep. Use with caution if allergic to bee products.
For maximum freshness, keep refrigerated after opening.
Non-toxic desiccant packet inside for freshness.
---
We Also Recommend