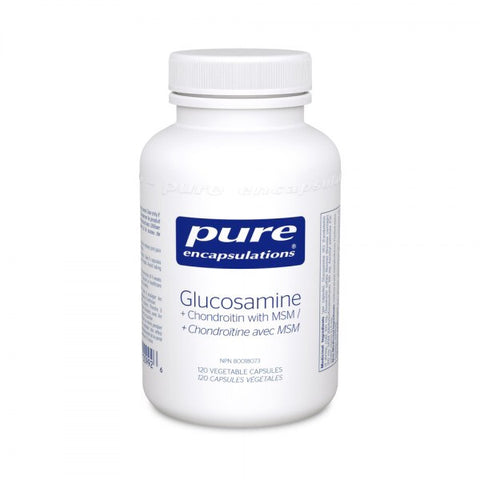 Glucosamine + Chondroitin with MSM - 120vcaps - Pure Encapsulations
Pure Encapsulations Glucosamine + Chondroitin with MSM
Offers highly purified cartilage constituents
Supports joint comfort
Glucosamine + Chondroitin with MSM offers glucosamine HCl and chondroitin sulfate, combined with sulfur-containing methylsulfonylmethane (MSM) to provide an enhanced spectrum of nutrients for optimal joint comfort. Glucosamine promotes the synthesis of the glycosaminoglycan chondroitin sulfate. Research has indicated that glucosamine HCl supports healthy cartilage integrity, in part by maintaining healthy matrix metalloproteinase (MMP) enzyme activity. Chondroitin sulfate plays a key role in the development of cartilage by promoting the synthesis of cartilage-forming molecules known as proteoglycans. In addition, sulfur from MSM helps maintain the structure and integrity of proteoglycans. Several studies have indicated that chondroitin sulfate has positive effects on joint mobility and comfort. Additionally, a recent randomized, double blind, placebo-controlled trial revealed that MSM also promotes joint comfort and function.
Recommended Use: Helps to relieve joint pain associated with osteoarthritis.
Recommended Dose: Adults. Take 5 capsules daily in divided doses, with meals. Avoid taking at bedtime.
Duration of Use: Use for a minimum of 4 weeks to see beneficial effects. Consult a healthcare practitioner for use beyond 3 months.
---
We Also Recommend