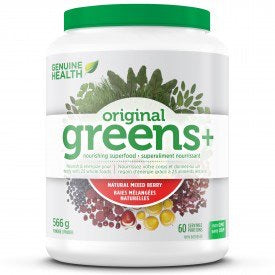 Greens+ Natural Mixed Berry Flavour - 566g - Genuine Health
Genuine Health ORIGINAL greens+ Natural Berry flavour 566g
Boost your nutritional intake, energy and vitality with Canada's first and only research-proven superfood formula.
Just one serving daily provides a synergistic blend of over 23 plant-based essential nutrients. Highly alkaline-forming and rich in antioxidants, greens+ nourishes and protects your body, increases energy, promotes healthier bones – and much more.
The only superfood proven to boost energy and vitality, provide antioxidant support and balance pH – 25 years later, 9 studies and counting.
greens+ gives you the energy to do the things you have to do, so you can do the things you want to do.
This is the formula that started it all – the original greens+ blend of 23 full spectrum plant-based ingredients and energizing botanicals, including organic wheat grass, Atlantic dulse, spirulina, chlorella, beetroot, bilberry, milk thistle, plus adaptogenic herbs licorice root and Siberian ginseng extracts. Each ingredient was chosen because it is supported by research on benefits and safety; and together, these ingredients have a unique synergy.
greens+ is the ONLY superfood that's been proven to increase energy, vitality and overall well-being, provide antioxidant protection, and balance pH. 25 years later, 9 studies and counting.
Recommended Use: To increase your energy and well-being
Adult Dosage: Mix 3 tsp (9.4 g) in 1 cup (250 mL) of pure water or juice. Shake well. If you are a new user of greens+, begin with 1 tsp daily and gradually increase to 3 tsp daily over a 3 week period. Do not take on empty stomach. Consult a health care practitioner for use beyond 3 months.
Non-medicinal Ingredients: Natural flavour blend with Stevia rebaudiana leaf extract, citric acid, malic acid.
Allergy Alert: May contain skim milk as part of probiotic culture.
greens+ contains no artificial colours, flavours or sweeteners. NON-IRRADIATED.
Caution: Not to be taken by children, during pregnancy, while breastfeeding, by those on medication or with chronic health problems unless under the recommendation of a health care practitioner. Consult a health care practitioner prior to use if you have nausea, fever, vomiting, bloody diarrhoea or severe abdominal pain. Do not use if you have gastrointestinal blockage. Discontinue use and consult a health care practitioner if symptoms of digestive upset occur, persist or worsen beyond 3 days. Use with caution if allergic to bee products.
For maximum freshness, keep refrigerated after opening.
---
We Also Recommend