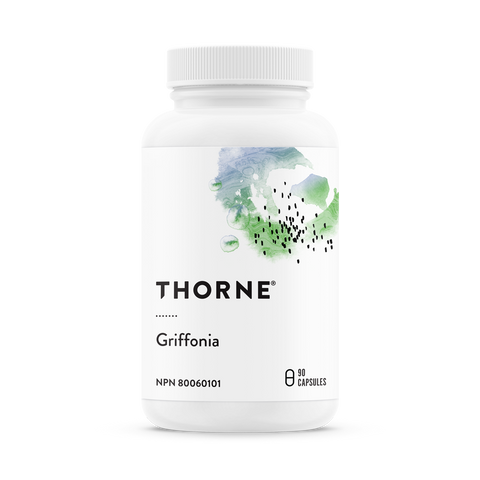 Griffonia - 90caps - Thorne
Thorne Griffonia
Griffonia is a natural source of 5-Hydroxytryptophan (5-HTP), the intermediate metabolite produced when the body initiates the process of converting the essential amino acid L-tryptophan to serotonin. Serotonin levels in the body are associated with the regulation of sleep, mood, aggression, appetite, temperature, sexual behavior, and pain sensation.
Recommended Use or Purpose (Adults): Helps to promote healthy mood balance and used as a sleep aid. Use for a minimum of 1 week to see beneficial effects. Consult a health professional for use beyond one year.
Recommended Dose (Adults): Take with food. 
To promote healthy mood balance – Take 1-2 capsules three times daily or as recommended by a health professional. To minimize the risk of gastrointestinal side effects, start dosing at 1 capsule three times daily and slowly increase to effective dose over a period of 2 weeks.
For use as a sleep aid – Take 2-4 capsules daily or as recommended by a health professional. Take 30-45 minutes before bedtime.
Medicinal Ingredients: Per Capsule: L-5-Hydroxytryptophan (Griffonia simplicifolia) (seed) 50 mg, Vitamin B6 (Pyridoxal 5'-Phosphate 3.4 mg
Non-Medicinal Ingredients: Hypromellose (derived from cellulose) capsule, Microcrystalline Cellulose, Leucine, Silicon Dioxide.
---
We Also Recommend