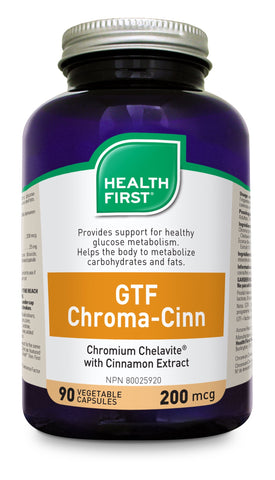 GTF Chroma-Cin 200mcg - 90vcaps - Health First
Health First GTF Chroma-Cinn 200mcg
Product Brief: Provides support for healthy glucose metabolism. Helps the body to metabolize carbohydrates and fats. Helps to prevent chromium deficiency. GTF Chroma-Cinn contains a patented form of chromium, Chromium Chelavite®. Chromium Chelavite® is considered more absorbable than popular forms of chromium,such as chromium picolinate (57.5% vs. 37.5%). Chromium is known to support healthy glucose metabolism. GTF Chroma-Cinn also contains cinnamon extract. Several studies done on humans have shown that cinnamon is able to reduce glucose blood levels and increase insulin sensitivity, as well as lower LDL cholesterol levels.
Recommended dose: Adults: Take 1 capsule twice daily between meals.
Medicinal ingredients:
Each capsule contains:
Chromium (Chromiumbisglycinate) 200 mcg
Chromium Chelavite®
Cinnamon bark (Cinnamomum cassia) 10:1 extract,equivalent to 250 mg 25 mg
Non-medicinal ingredients: Colloidal silicon dioxide, microcrystalline cellulose, magnesium stearate, hypromellose (capsule shell).
Risk information: Consult a health care practitioner prior to use if you are pregnant or breastfeeding.
Free from: artificial colours, artificial flavours, corn, gluten, wheat, lactose, preservatives, soy,
added sugar and yeast.
Note: This product is the same GTF Chroma-Cinn as featured in the Health First® Trim First program.
GTF= Glucose Tolerance Factor
---
We Also Recommend