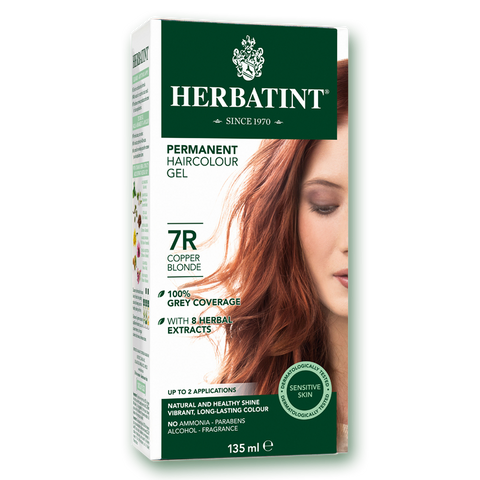 Herbatint Colour - 7R Copper Blonde - 135mL - A.Vogel
Herbatint Colour 7R Copper Blonde 135mL
HERBATINT™ "R" COPPER SERIES NATURAL HERB BASED HAIR COLOUR
THE MOST NATURAL PERMANENT HAIR COLORING GEL
Permanently colours hair without damage.
Herbatint has a natural translucent property to enhance hair with a light-reflecting, healthy shine; so it doesn't create the 'block colour' look often associated with chemical dyes.
Permanent herbal haircolour gel without ammonia, without paraben.
The R (Copper) tones are particularly suitable for golden-like complexions. They guarantee a coppery colour, rich in shades, they lighten up your hair with warm reflections. 
Gentle Hair
Since 1970
100% Grey Cover
With 8 Certified Herbal Extracts
Long Lasting Colour
Up To 2 Applications
Natural and Healthy Shine Vibrant, Long-Lasting Color
No Ammonia - Alcohol - Parabens
Sensitive Skin - Dermatologically Tested
Gluten Free
Cruelty Free and Vegan
Herbatint is the permanent ammonia-free colouring, containing 8 organic herbal extracts, which covers 100% of grey hair for a natural and intense result that is rich in highlights. Your hair regains brightness and vitality, and is immediately healthier and naturally beautiful.
---
We Also Recommend