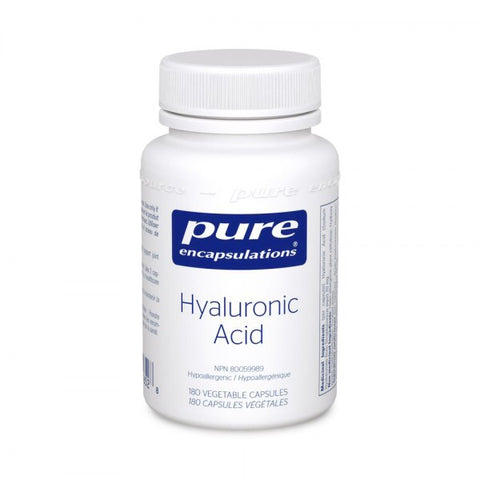 Hyaluronic Acid - 180vcaps - Pure Encapsulations
Pure Encapsulations Hyaluronic Acid
Features sodium hyaluronate, a clinically researched absorbable form of hyaluronic acid
Provides 140 mg of sodium hyaluronate per day
Hyaluronic acid is a naturally occurring polymer found in every tissue of the body. It is particularly concentrated in the skin and synovial fluid, and is composed of alternating units of n-acetyl-d-glucosamine and d-glucuronate. This polymer's functions include attracting and retaining water in the extracellular matrix of tissues and in synovial fluid, which helps support joint health. In nature, hyaluronic acid is a large molecular weight compound, ranging in size from 500000-6 million daltons; this is too large to be absorbed in the small intestines. Sodium hyaluronate provides a low molecular weight source of hyaluronic acid produced through fermentation. In a pharmacokinetic study, oral administration with this form of hyaluronic acid led to its incorporation into joints, connective tissue and skin, with a particular affinity for cartilaginous joints. For joints, hyaluronic acid is especially supportive of healthy lubrication and shock absorption. Furthermore, in vitro studies indicate that hyaluronic acid modulates prostaglandin production, providing additional support for joint function.
Recommended Use: Helps support joint health.
Recommended Dose: Adults: Take 2 cap- sules daily or as directed by a healthcare practitioner.
Medicinal Ingredients (per capsule): Hyaluronic Acid (Sodium Hyaluronate from Streptococcus equi) 70 mg.
Non-Medicinal Ingredients: Hypo-allergenic plant cellulose, Hydroxy propyl methylcellulose, Purified water.
---
We Also Recommend