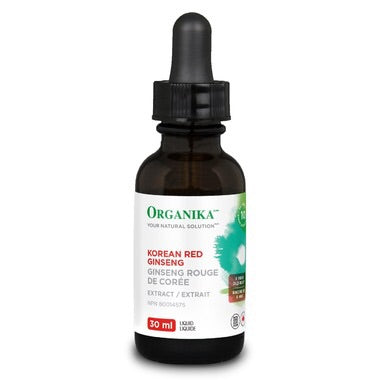 Korean Red Ginseng Liquid - 30ml - Organika
KOREAN RED GINSENG 
Increase energy during periods of fatigue and debility.
When the odd afternoon nap becomes a requirement in the daily routine, the weight of fatigue begins to burden everyday functioning. Naturally lift your energy level with Organika's 6-year-old root Korean Red Ginseng Capsules, providing 500 mg of Panax ginseng to increase energy in periods of fatigue and debility, particularly under stressful conditions.
For thousands of years, Panax ginseng, which is native to China and Korea, has been used in traditional Chinese medicine for the treatment of fatigue. Unlike western medicine, which attempts to target a specific re-alignment or treat individual symptoms, traditional Chinese medicine targets the whole system to treat a particular disease.
The active agents in Panax ginseng are ginsenosides, a group of saponins which help the body adapt to various stressors. Ginseng contains over 32 ginsenosides, each producing a variety of effects in the body. Red ginseng is made from mature roots and is harvested for six years before it is steamed (a process that gives it the reddish colour for which it is named) then dried.  It is warm in nature, thereby producing a warming effect on the body. It has higher antioxidant properties and powerful adaptogen properties that allow the body to naturally deal with stress. The dried but non-steamed variety is called Korean White Ginseng and is sometimes preferred due to its quicker blood purification process.
We test our raw materials for quality, potency and purity before and after it is manufactured. Please refer to the Certificate of Analysis for a detailed list of all tests conducted for Organika's Korean Red Ginseng Capsules, guaranteeing each capsule contains 500 g of Korean Red Ginseng.
Raise your energy with Organika's Korean Red Ginseng and lose the weight of fatigue.
BENEFITS:
Improves energy levels during periods of fatigue and debility.
Enhances physical and mental performance in stressful situations.
Helps improve cognitive function and reduce mental fatigue.
Promotes healthy blood sugar regulation.
RECOMMENDED USE OR PURPOSE: Helps support cognitive function and/or reduce mental fatigue. Used in Herbal Medicine to help enhance physical capacity / performance.
MEDICINAL INGREDIENT – EACH 1 ml (15 DROPS) CONTAINS:
Korean Ginseng (Panax ginseng C. A. Meyer) (Root)………………..170 mg
NON-MEDICINAL INGREDIENTS:
Ethanol, Purified Water.
RECOMMENDED DOSE – (ORAL) ADULTS ONLY:
Take 1 ml (15 drops) 3 times daily.
DURATION OF USE: Consult a health care practitioner for use beyond 3 months.
CAUTIONS: Consult a health care practitioner prior to use if you have diabetes; if you are taking antidepressant medications, blood thinners or digoxin; or if you are pregnant or breastfeeding. Some people may experience insomnia, anxiety or headaches, in which case, discontinue use.
CONTAINS NO: Dairy, egg, artificial preservatives, colours, artificial sweeteners, yeast, wheat, soya, or gluten.
---
We Also Recommend