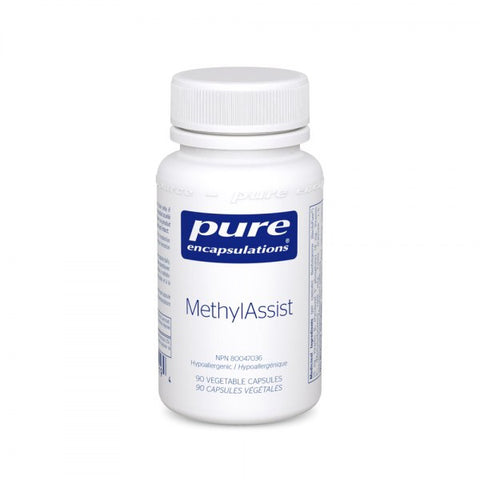 MethylAssist - 90vcaps - Pure Encapsulations
Pure Encapsulations MethylAssist
Supports nutrient metabolism
Helps form red blood cells
MethylAssist provides activated B vitamins, including Metafolin® L-5- methyltetrahydrofolate (L-5-MTHF), to support nutrient metabolism. Activated B vitamins are particularly important for providing methyl groups involved in the methylation cycle. Methylation involves the transfer of a methyl group (CH3) from one molecule to another. Vitamin B12 and folate are required by the enzyme that produces methionine. Folate is provided in this formula as Metafolin®, the naturally occurring, universally metabolized form of folate. Metafolin® is chemically identical to the active folate metabolite, 5-methyltetrahydrofolate (L-5-MTHF). L-5-MTHF is the predominant, naturally occurring form of folate in food. Through bypassing several enzymatic activation steps, it is directly usable by the body and provides all of the benefits of folic acid regardless of functional or genetic variations. In addition, these B vitamins also help to form red blood cells. MethylAssist also includes benfotiamine, a synthetic derivative of thiamine reported to have better bioavailability than thiamine itself.
Recommended Use: Helps in energy metabolism and tissue formation. Helps to form red blood cells.
Recommended Dose: Adults: Take 1 capsule daily with a meal or as directed by a healthcare practitioner.
Medicinal Ingredients (per capsule): BenfoPure® Benfotiamine 75 mg, Vitamin B6 (pyridoxal 5'-phosphate) 16 mg, Vitamin B12 (methylcobalamin) 1000 mcg, Folate (calcium L-5-methyltetrahydrofolate, Metafolin®) 1000 mcg.
Non-Medicinal Ingredients: Hypoallergenic plant cellulose, Hydroxypropyl methylcellulose, Purified water.
---
We Also Recommend