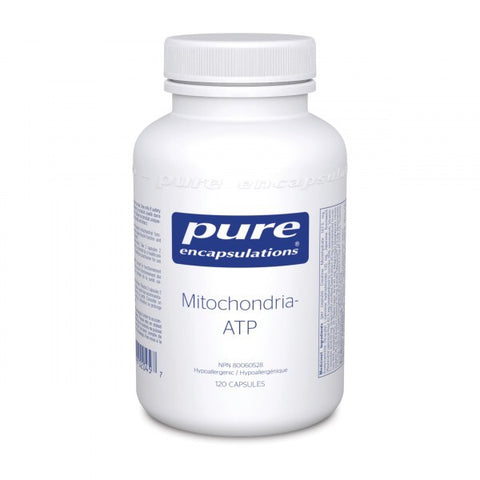 Mitochondria-ATP- 120caps - Pure Encapsulations
Pure Encapsulations Mitochondria-ATP
Supports cellular energy and mitochondrial health.
Maintains cardiovascular health and proper muscle function
Made with hypoallergenic ingredients
Mitochondria-ATP provides nutrients and antioxidants to support mitochondrial functioning. CoQ10 is a component of the mitochondria and plays a key role in the synthesis of ATP. Ubiquinol is the activated form of CoQ10. B vitamins are important cofactors needed to fuel the Krebs cycle, while optimal serum levels of magnesium are associated with healthy mitochondrial metabolism and muscle function. Acetyl-l-carnitine provides carnitine to transport long-chain fatty acids into the mitochondria for energy, as well as an acetyl group for the synthesis of the Krebs cycle precursor acetyl-CoA. Creatine is an important compound utilized by skeletal muscle to support ATP synthesis by enhancing levels of phosphocreatine. This formula provides antioxidant support from vitamins C and E, as well as from grape seed extract, resveratrol, alpha lipoic acid and n-acetyl-l-cysteine. These nutrients and bioactives neutralize the free radicals generated during energy production in the mitochondria. In a double-blind, placebo-controlled, crossover study, the combination of creatine, CoQ10and alpha lipoic acid supported energy production and antioxidant status within the mitochondria.
Recommended Use: Supports mitochondrial func- tioning. Helps to maintain proper muscle function and support cardiovascular health.
Recommended Dose: Adults: Take 2 capsules 2 times daily with meals or as directed by a healthcare practitioner. Consult a healthcare practitioner for use beyond 6 weeks.

Medicinal Ingredients (per capsule): Creatine Monohydrate 187.5 mg, Acetylcarnitine (N-acetyl L-carnitine hydrochloride) 125 mg, Japanese Knotweed (Reynoutria japonica) Root 62.5 mg (standardized to contain 20% resveratrol), Vitamin C (ascorbic acid) 50 mg, Grape (Vitis vinifera) Seed Extract 25 mg (standardized to con- tain 92% polyphenols), DL-Alpha-Lipoic Acid 25 mg, Magnesium (magnesium citrate malate) 25 mg, N-Acetyl-L-Cysteine 25 mg, Kaneka UbiquinolTM 12.5 mg, Niacinamide 8.75 mg, Vitamin E (d-alpha tocopheryl acid succinate) 8.3 mg AT (12.5 IU), Thiamine (thiamine hydrochloride) 5 mg, Riboflavin 3.75 mg.

Non-Medicinal Ingredients: Vegetarian capsule (hypromellose, water). 
---
We Also Recommend