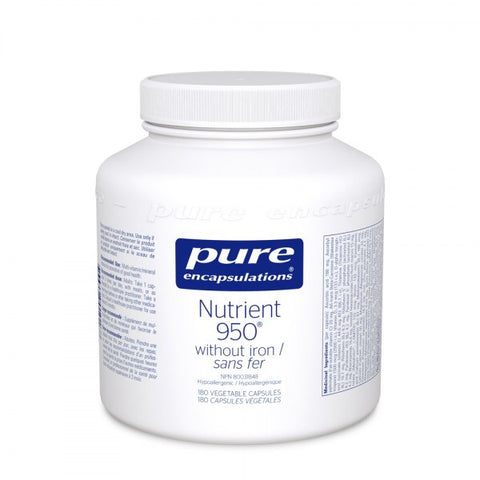 Nutrient 950 Without Iron - 180vcaps - Pure Encapsulations
Pure Encapsulations Nutrient 950® Without Iron
Offers an advanced mineral delivery system and highly desirable coenzyme forms of B vitamins
Provides antioxidant defence
Nutrient 950® without iron is a complete hypoallergenic, nutrient rich, highly bioavailable multi-vitamin and multi-mineral supplement. It contains superior mineral cofactors and activated vitamins, and provides an excellent antioxidant profile. Nutrient 950® without iron was formulated exclusively for nutritionally oriented doctors who demand the highest quality multi-vitamin and mineral formula available for their patients. It provides a high profile of free radical scavenging antioxidants important for cellular health, including vitamins C and E, selenium, lycopene, lutein, and zeaxanthin. The vitamins and minerals in this formula also support various physiological functions, including nutrient metabolism, proper muscle and immune function, and bone, eye and skin health. Nutrient 950® without iron provides readily-absorbed minerals and activated vitamins, including Metafolin®, the naturally occurring universally metabolized form of folate. Metafolin® is chemically identical to the active folate metabolite, 5-methyltetrahydrofolate (L-5-MTHF), the predominant, naturally occurring form of folate in food. Through bypassing several enzymatic activation steps, it is directly usable by the body and provides all of the benefits of folic acid regardless of functional or genetic variations. This is a gentle, hypoallergenic formula, which is well tolerated by sensitive individuals.
Recommended Use: Source of vitamins and minerals, factors in the maintenance of good health.
Recommended dose: Adults: Take 3 cap- sules daily with a meal, a few hours before or after taking other medications or natural health products, or as directed by a health- care practitioner.
Medicinal Ingredients (per capsule): Beta-carotene (from Blakeslea trispora) 1500 mcg (2500 IU), Vitamin C (ascorbic acid, ascorbyl palmitate) 175 mg, Vitamin D3 (cholecalciferol) 3.3 mcg (132 IU), Vitamin E (d-alpha tocopherol acid succinate) 44.6 mg AT (66.7 IU), Thiamine (thiamine hydro- chloride) 16.7mg, Riboflavin (riboflavin, riboflavin 5'-phosphate sodium) 11.5 mg, Niacin (niacinamide, inositol hexanicotinate) 28.6 mg, Vitamin B6 (pyridoxine hydrochloride, pyridoxal 5'-phosphate) 6.8 mg, Folate (calcium L-5-methyltetrahydrofolate, Metafolin®) 133 mcg, Vitamin B12 (methylco- balamin) 166.6 mcg, Biotin 133 mcg, Pantothenic acid (calcium d-pantothe- nate) 66.7 mg, Calcium (calcium citrate) 50 mg, Iodine (potassium iodide) 33.3mcg, Magnesium (magnesium citrate) 33 mg, Zinc (zinc picolinate) 4.17 mg, Selenium (selenomethionine) 33.3 mcg, Copper (copper bisglycinate) 333 mcg, Manganese (manganese aspartate) 0.83 mg, Chromium (chromium polynicotinate) 33.3 mcg, Molybdenum (molybdenum aspartate) 16.6 mcg, Potassium (potassium aspartate) 16.5 mg, Boron (boron glycinate) 333 mcg, Vanadium (vanadium aspartate) 33.3 mcg, Lutein (from Tagetes erecta flower) 83.3 mcg, Lycopene (from Solanum lycopersicum fruit flesh) 41.6 mcg, Zeaxanthin 16.7 mcg.

Non-Medicinal Ingredients: Hydroxypropyl methylcellulose, Purified water. Ingrédients médicinaux (par capsule) : Bêta-carotène (Blakeslea trispora)
---
We Also Recommend