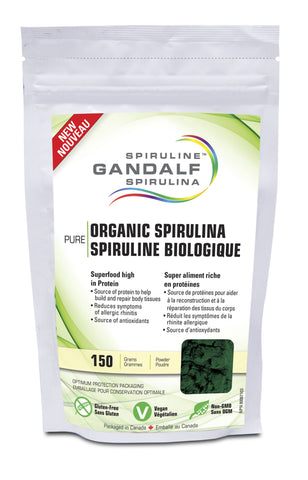 Organic Spirulina™ Powder - 150g - Gandalf
Nature's Super Food
Spirulina is a type of blue green algae rich in protein, carotenoids, essential fats and trace minerals. Gandalf Spirulina™ has been supplying Canada with this super food since 1994. This organic version is grown in Mongolia using water sourced from underground aquifers rich in minerals and trace elements. This is one of the cleanest, most nutritious spirulinas available. When compared to other brands, the deep green hue emphasizes the high quality and purity of this spirulina.
NPN 80067103
Source of protein to help build and repair body tissues.
Reduces symptoms of allergic rhinitis such as nasal discharge, sneezing, nasal congestion and itching.
Source of antioxidants to protect and reduce oxidative damage caused to cells by free radicals.
Medicinal Ingredients (per 5 g scoop)
Organic Spirulina platensis (Arthrospira platensis, whole) . . . . . . . . . 5 g
Providing:
60% algal protein
Recommended Dose
Adults and adolescents over 14 years: Take 1 scoop daily, mixed in organic apple juice or a fruit smoothie, or as directed by your health care practitioner. Drink plenty of water. Store in a cool, dry, dark area.
Available as:
---
We Also Recommend