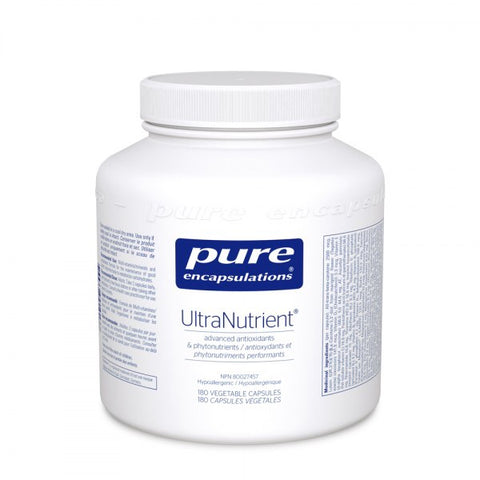 UltraNutrient - 180vcaps - Pure Encapsulations
Pure Encapsulations UltraNutrient
Enhances antioxidant defence and nutrient metabolism
Provides additional nutritional support when higher-potency supplementation is desired
UltraNutrient® combines core vitamins and minerals with advanced antioxidants and standardized phytonutrient extracts to provide exceptional broad-spectrum nutritional support for daily wellness. Utilizing some of the most highly recognized antioxidants, nutrients and botanicals, UltraNutrient® enhances Nutrient 950® with added alpha lipoic acid, coenzyme Q10 and reduced glutathione, as well as standardized extracts of hawthorn, ginger, milk thistle and turmeric. This formula also introduces forms of vitamins and minerals newly recognized for their bioavailability and potency, including beta carotene from mixed carotenoids. UltraNutrient® also provides folate (as Metafolin®, L-5-MTHF), vitamin B6 and vitamin B12 to support the metabolism of nutrients, including those involved in the methylation cycle. Metafolin® is the naturally occurring universally metabolized form of folate. It is chemically identical to the active folate metabolite, 5-methyltetrahydrofolate (L-5-MTHF), the predominant, naturally occurring form of folate in food. Through bypassing several enzymatic activation steps, it is directly usable by the body and provides all of the benefits of folic acid regardless of functional or genetic variations.
Recommended Use: Multi-vitamins/minerals and anti- oxidants formula for the maintenance of good health.
Recommended Dose: Adults: Take 2 capsules daily, with food and a few hours before or after taking other medications. Consult a health care practitioner for use beyond 3 months.
Medicinal Ingredients (per capsule): All-trans-beta-carotene (Blakeslea trispora) 2500 mcg, Lutein (from herb flowering oleoresin of Tagetes erecta) 141.6 mcg, Vitamin D3 (Cholecalciferol) 3.3 mcg (133 IU), Vitamin E (d-alpha tocopheryl acid succinate) 44.6 mg AT (66.6 IU), Vitamin C (Ascorbyl palmitate) 6.72 mg, Pantothenic acid (Calcium D-pantothenate) 66.6 mg, Niacinamide 16.6 mg, Thiamine (Thiamine hydrochloride) 16.6 mg, Inositol hexanicotinate 15 mg, Riboflavin (Riboflavin/Riboflavin 5'-phosphate) 12.5 mg, Vitamin B6 (Pyridoxine hydrochloride/Pyridoxal 5'-phosphate) 7 mg Vitamin B12 (Methylcobalamin) 166.6 mcg, Folis acid (L-5-Methyltetrahydrofolate, Metafolin®) 133.3 mcg, Biotin 133.3 mcg, Calcium (Calcium citrate malate) 50 mg, Magnesium (Magnesium Aspartate) 33.3 mg, Potassium (Potassium aspartate) 16.6 mg, Zinc (Zinc picolinate) 4.2 mg, Manganese (Magnesium aspartate) 0.83 mg, Boron (Boron glyci- nate) 0.33 mg, Copper (Copper Glycinate) 0.33 mg, Chromium (Chromium polynicotin- ate) 83.3 mcg, Selenium (Selenomethionine) 33.3 mcg, Vanadium (Vanadium aspartate) 33.3 mcg, Molybdenum (Molybdenum Aspartate) 16.6 mcg, DL-alpha Lipoic acid 16.6 mg, Hawthorn (Crataegus oxyacantha) extract 16.6 mg (1.8% vitexin-2"-0-rhamnoside), Ginger (Zingiber officinale) rhizome extract 16.6 mg (8:1, 133 mg dried equivalent) (standardized to 5% gingerols), Milk thistle (Silybum marianum) seed extract 16.6 mg (standardized to 80% silymarin), Turmeric (Curcuma longa) rhizome extract 33 mg (standardized to 95% curcuminoids), L-Glutathione 8.3 mg, Coenzyme Q10 (Yeast fermentation) 8.3 mg, Zeaxanthin (from herb flowering oleoresin of Tagetes erecta) 36.8 mcg, Lycopene (Solanum lycopersicum) fruit 69.5 mcg.
Non-Medicinal Ingredients: Hydroxypropyl methylcellulose, Purified water.
---
We Also Recommend