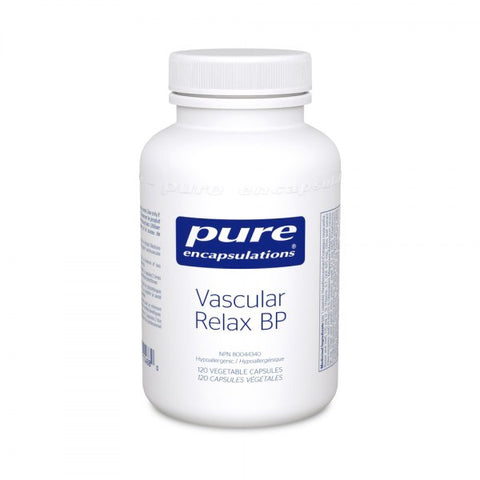 Vascular Relax - 120vcaps - Pure Encapsulations
Pure Encapsulations Vascular Relax
Maintains vascular function
Includes MegaNatural®-BP grape seed extract plus CRANLOAD™ cranberry and grape seed extract
Vascular Relax is a powerful combination of herbal extracts, including hawthorn, for cardiovascular support in adults. Hawthorn has a long history of use in Herbal Medicine for maintaining cardiovascular health and has supported vascular function in studies. It is particularly useful for vascular smooth muscle relaxation, endothelial function and overall circulatory health. MegaNatural®- BP grape seed extract is unique in that the extraction process maximizes the concentration of monomeric and oligomeric polyphenols. It was used in studies conducted at the University of California, Davis. Similarly, a recent doubleblind, placebo-controlled trial in Israel investigated the carotenoid lycopene from tomato extract. CRANLOAD™ delivers a unique cranberry and grape seed blend developed as part of an extensive research program with the Institute of Nutraceuticals and Functional Foods (INAF) and Laval University in Quebec, Canada. This powerful blend was studied in a pilot trial involving elite athletes. Pomegranate, standardized to contain 40% punicosides, is also included in this formula.
Recommended Use: Used in Herbal Medicine to help maintain and support cardiovascular health in adults.
Recommended Dose: Adults: Take 2 capsules 2 times daily with food or as directed by a healthcare practitioner. Use for a minimum of 2 months to see beneficial effects. Consult a healthcare practitioner for use beyond 3 months.
Medicinal Ingredients: Hawthorn (Crataegus oxyacantha) Flower and Leaf Extract 125 mg (standardized to contain 2% vitexins) (5-7:1, 625-875 mg dried equivalent), Olive leaf (Olea euro- paea) Extract 25 mg (standardized to contain 15% oleuropein), Magnesium (magnesium citrate) 50 mg, Grape seed (Vitis vinifera) Extract 37.5 mg (standardized to contrain 90% polyphenols), Pomegranate (Punica granatum) Fruit pericarp Extract 12.5 mg (standardized to contain 40% total punicosides) (15-20:1,187.5-250 mg dried equivalent), Lycopene (from Solanum lycopersicum fruit flesh) 3.75 mg, CRANLOADTM Fruit blend [Cranberry (Vaccinium macrocarpon) Fruit Extract 10 mg, Grape seed (Vitis vinifera) Extract 22 .5 mg] 32 .5 mg, Vitamin C (ascorbyl palmitate) 4 mg.
Non-Medicinal Ingredients: Hypoallergenic plant cellulose, Hydroxypropyl methylcel- lulose, Purified water.
---
We Also Recommend