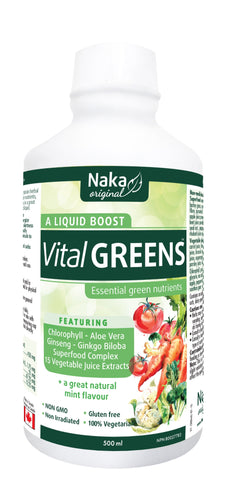 Vital Greens - 500ml - Naka
Maximize your sport and work performance with Vital GREENS liquid.
Ginseng to help energize
Chlorophyll to detoxify and deodorize
Nutrients and botanicals help with digestion
Superfood Complex to aid pH balance and help stop cravings
If fatigue, pain, and poor health have been a problem for you, you no longer have to live that way. Adding Vital Greens to your supplement regimen can help give you back that feeling of health and well-being that you've been missing. After a short time, you may notice that those familiar aches and pains have become a thing of the past. You may even find that you no longer need to rely on as many stimulants and painkillers as you used to get through your day. When this happens, you'll know Vital Greens is the right choice for your health.
Vital GREENS liquid provides faster, superior absorption for maximum results!
Take one liquid tablespoon a day!
Medicinal Ingredients:
Superfood complex ([1:10] 3750 mg): Wheat grass, barley grass, medicago sativa (alfalfa) leaf extract, apple pectin fibre, sprouted barley malt, brown rice bran, bee pollen, pine- apple juice powder, Nova Scotia dulse, fructooligosaccharides, beet juice powder, avena sativa (oat) grass, rye grass, grape seed ext., peppermint leaf, royal jelly, acerola juice powder, rhubarb juice powder, aloe vera leaf, ginger root, bilberry leaf. Vegetable juice complex ([1:10] 200 mg): Broccoli juice, carrot juice, tomato juice, beet juice, spinach juice, cucumber juice, brussel sprout juice, cabbage juice, celery juice, kale
juice, asparagus juice, green bell pepper juice, cauliflower juice, parsley juice, wheat grass juice.
Chlorophyll, purified water, stevia rebaudiana leaf, vegetable glycerin, sea salt (sodium chloride), potassium sorbate, natural apple, peppermint, lemon and licorice flavours, lecithin, pectin, xanthan gum, vaccinium uliginosum (bilberry) extract. 
Cautions and warnings:
• Herbs may cause transient adverse effects such as nausea,
vomiting, and GI distress. Caution should be used in individuals
having known allergies to plants.
• Consult a health care practitioner if symptoms persist or worsen. • Consult a health care practitioner prior to use if you have any
type of acute infection.
Contraindications: Do not use if you are pregnant, breastfeed- ing or have high blood pressure.
Note: This is a product with natural components. Therefore, slight variations in the colour and taste are natural and do not affect the quality of the product.
---
We Also Recommend