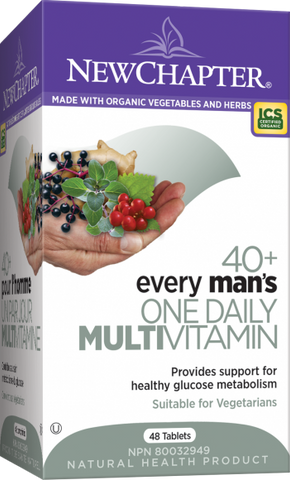 Every Man's One Daily 40+ Multivitamin - 72tabs - NewChapter
Provides support for healthy glucose metabolism
Available in 48, 72, and 96 tablet size 
Helps to produce and repair connective tissue
Suitable for vegetarians
One-a-Day Convenience
As busy adults, convenience and dependability may be just as important as being comfortable with how your multivitamin is made. New Chapter's easy-to-take One Daily multis let you create a supplementation routine that's simple and reliable. With the convenience of just one tablet daily, it's easy for men and women to support their nutritional needs all year long.
For Every Stage of Life
At New Chapter, we know nutrient needs for men and women can be different. The same can be said for people under 40 versus over 40 years of age. Every Man's One Daily and Every Woman's One Daily from New Chapter are convenient multivitamins formulated for men and women under 40. If you're over 40, discover our one daily multis formulated specifically for you—Every Man's One Daily 40+.
Recomended Dose:
Adults—Take 1 tablet per day with food. Take a few hours before or after taking other medications. Recommended duration of use: Consult a healthcare practitioner for use beyond 3 months.
Amount per 1 Tablet
Vitamin C† (Ascorbic acid)
60
mg
Vitamin E† (d-a-Tocopherol) [30 IU]
20
mg
Niacin† (Niacinamide)
20
mg
Calcium (from Algae‡)
15
mg
Pantothenic Acid† (Calcium d-Pantothenate)
10
mg
Zinc† (Zinc oxide)
10
mg
Vitamin B6† (Pyridoxine hydrochloride)
5
mg
Magnesium† 75% (Magnesium oxide; Magnesium chloride) 25% (from Algae‡)
4
mg
Bêta-carotène† [5000 IU]
3750
mcg
Thiamin-Vitamin B1† (Thiamin hydrochloride)
2
mg
Riboflavin-Vitamin B2† (Riboflavin)
2
mg
Manganese† (Manganese chloride)
1
mg
Copper† (Copper sulfate)
1000
mcg
Folate† (Folic acid)
200
mcg
Biotin†
150
mcg
Vitamin K1† and K2 (Phytonadione; Menaquinone 7)
80
mcg
Iodine† (Potassium iodide)
75
mcg
Selenium† (Sodium selenate)
75
mcg
Chromium† (Chromium chloride)
60
mcg
Vitamin B12† (Cyanocobalamin)
25
mcg
Vitamin D3† (Cholecalciferol) [1000 IU]
25
mcg
Molybdenum† (Sodium molybdate)
10
mcg
Saw Palmetto (fruit) supercritical extract
72.11
mg
Organic Maca† (root)
12
mg
Organic Schizandra† (berry)
12
mg
Nettle (root) hydroethanolic extract
9.13
mg
Organic Pumpkin Seed Oil (seed)
8.76
mg
Organic Chamomile† (flower)
6
mg
Organic Fenugreek† (seed)
6
mg
Organic Oregano† (leaf)
6
mg
Organic Aloe† (leaf)
5
mg
Grape (seed) extract
4
mg
Organic Hawthorn† (berry and seed)
4
mg
Organic Turmeric† (rhizome)
3.2
mg
Ginger (rhizome) hydroethanolic extract
3.2
mg
Organic Peppermint† (leaf)
2
mg
Organic Cardamom† (seed)
1
mg
Organic Coriander† (seed)
1
mg
Organic Artichoke† (leaf)
1
mg
Organic Turmeric (rhizome) supercritical extract
0.8
mg
Organic Ginger (rhizome) supercritical extract
0.8
mg
‡ Lithothamnion: (L.calcareum and L. corallioides)
† Nutrients and botanicals are cultured in organic media that may contain: organic milled soy, Saccharomyces cerevisiae (organic yeast: active and inactive), organic maltodextrin, organic gum acacia, organic orange peel, organic lemon peel, organic carrot powder, organic alfalfa powder, organic molasses, Lactobacilli (L. acidophilus, L. bifidus, L. rhamnosus) and enzymes (deactivated).
Non-medicinal ingredients: Red seaweed algae (Lithothamnion calcareum and Lithothamnion corallioides), organic gum acacia, silica, shellac, carnauba wax, maltodextrin, sunflower oil, alginate and pea starch.
Contains: Soy and wheat.
Contains gluten at less than 20 ppm.
Cautions and warnings: Consult a healthcare practitioner prior to use if suffering from any diseases or taking any medication. Consult a healthcare practitioner prior to use to exclude a diagnosis of prostate cancer. Do not use if you have high blood pressure, abnormal constrictions of the gastrointestinal tract, potential or existing
internal blockage, atonic bowel, appendicitis, inflammatory colon disease, abdominal pain of unknown origin, undiagnosed rectal bleeding, severe dehydration with depleted water or electrolytes, hemorrhoids or diarrhea. Do not use if you are allergic to plants of the Daisy family as hypersensitivity has been known to occur. Herbs may cause transient adverse effects such as nausea, vomiting and GI distress due to a variety of chemical constituents. Do not use this product if you have an allergy to any ingredient. Discontinue use and contact a healthcare practitioner if you experience an allergic reaction. Contraindications: Intake of Maca root is not recommended if you have a history of endometrial cancer.
---
We Also Recommend