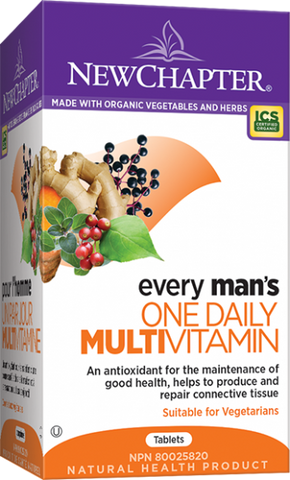 Every Man's One Daily Multivitamin - NewChapter
An antioxidant for the maintenance of good health, helps to produce and repair connective tissue
Available in 24, 48, 72 and 96 tablet sizes
Vitamin + Mineral Supplement

Made with Organic Vegetables and Herbs

Suitable for Vegetarians
Choosing the Best Multivitamin for You
For men seeking a convenient way to support daily wellness, it helps to know what you're putting in your body, including your daily multivitamin. Many multivitamins on the market are basic blends of synthetic chemical isolates. These isolates are synthesized by chemically processing the complex profiles of foods into single chemicals. The result is a completely man-made, simplified vitamin or mineral compound, and these are then combined to create a multivitamin product.
New Chapter® multivitamins are different, delivering fermented vitamins and minerals. Why ferment? For thousands of years, societies around the world have been fermenting foods with good bacteria to create healthy, gentle products such as miso. New Chapter brings this traditional fermentation process to all of our multivitamins, delivering vitamins and minerals that are cultured with organic yeast and live probiotics (no live probiotics remain in these products). Our multivitamins also deliver targeted organic medicinal herbs and are formulated for every life stage, such as Every Man's One Daily—the convenient multivitamin and mineral for men under 40.
Dosage:
Adult Males—Take 1 tablet daily with food. Take a few hours before or after taking other medications. Recommended duration of use: Consult a healthcare practitioner for use beyond 3 months.
Do not use if seal is broken or shows signs of tampering. Store at room temperature out of direct light. Keep out of reach of children.
| Amount per serving | | |
| --- | --- | --- |
| Beta-carotene† [5000 IU] | 3000 | mcg |
| Biotin† (Vitamin B7) (Biotin) | 150 | mcg |
| Chromium† (Chromium [III] chloride) | 60 | mcg |
| Copper† (Cupric sulfate) | 1500 | mcg |
| Folate† (Vitamin B9) (Folic acid) | 200 | mcg |
| Iodine† (Potassium iodide) | 75 | mcg |
| Manganese† (Manganese chloride) | 1 | mg |
| Molybdenum† (Sodium molybdate) | 10 | mcg |
| Niacinamide† (Vitamin B3) (Niacinamide) | 20 | mg |
| Pantothenic Acid† (Vitamin B5) (Calcium d-Pantothenate) | 10 | mg |
| Riboflavin† (Vitamin B2) (Riboflavin) | 1.7 | mg |
| Selenium† (Selenium dioxide) | 75 | mcg |
| Thiamine† (Vitamin B1) (Thiamine hydrochloride) | 1.5 | mg |
| Vitamin B6† (Pyridoxine hydrochloride) | 2 | mg |
| Vitamin B12† (Cyanocobalamin) | 12 | mcg |
| Vitamin C† (Ascorbic acid) | 60 | mg |
| Vitamin D3† (Cholecalciferol) [1000 IU] | 25 | mcg |
| Vitamin E† (D-a-tocopheryl acetate) [30 IU] | 20.7 | mg |
| Vitamin K1† (Phytonadione) | 70 | mcg |
| Vitamin K2 (Menaquinone-7 from natto) | 10 | mcg |
| Zinc† (Zinc oxide) | 15 | mg |
Medicinal Herbs
Organic Astragalus† (root) (Astragalus membranaceus) 4 mg, Organic Chamomile† (flower) (Matricaria chamomilla) 12 mg, Organic Fenugreek† (seed) (Trigonella foenum-graecum) 6 mg, Ginger (rhizome) (Zingiber officinale) 5:1 QCE 16 mg 3.2 mg, Organic Ginger (rhizome) (Zingiber officinale) 18.5:1 QCE 14.8 mg 0.8 mg, Grape (seed) extract (Vitis vinifera) 4 mg, Organic Hawthorn† (fruit and seed) (Crataegus monogyna) 4 mg, Organic Maca† (root) (Lepidium meyenii) 24 mg, Organic Oregano† (leaf) (Origanum vulgare) 6 mg, Organic Schizandra† (berry) (Schisandra chinensis) 24 mg, Organic Siberian Ginseng†(root) (Eleutherococcus senticosus) 4 mg, Organic Turmeric (rhizome) (Curcuma longa) 21.5:1 QCE 17 mg 0.8 mg, Organic Turmeric† (rhizome) powder (Curcuma longa) 3.2 mg
QCE = Quantity Crude Equivalent (dried herb) † Fermented
Non-medicinal ingredients: Organic milled soy, organic Saccharomyces cerevisiae, elderberry, organic maltodextrin, organic gum arabic, silica, shellac, carnauba wax, calcium carbonate, magnesium carbonate, organic orange peel powder, organic carrot root powder, organic alfalfa grass powder, organic molasses and organic safflower oil.
Contains: Soy and wheat.
Contains gluten at less than 20 ppm.
Cautions and warnings: Herbs may cause transient adverse effects such as nausea, vomiting and GI distress due to a variety of chemical constituents. Caution should be used in individuals having known allergies to plants. Consult a healthcare practitioner prior to use if you have diabetes, gallstones or a bile-duct obstruction, stomach ulcers or excess stomach acid, or an auto-immune disorder or any type of acute infection. Consult a healthcare practitioner prior to use if you are taking blood thinners or if you are taking cardiac glycosides, such as digitalis/digoxin or blood pressure medication. Do not use if you have high blood pressure.
---
We Also Recommend