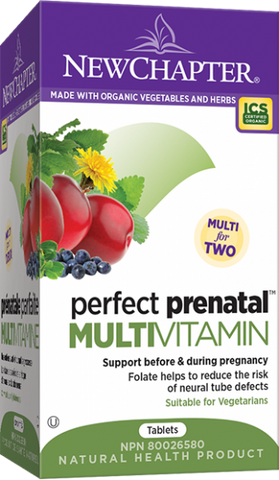 Perfect Prenatal™ Multivitamin - 96tabs - NewChapter
MULTI for TWO
Available in 48, 96, and 192 tablet sizes 
Support before & during pregnancy
Folate helps to reduce the risk of neural tube defects
Suitable for Vegetarians
Multivitamin + Herbs + Minerals
Like each woman, each pregnancy is one of a kind. But while one woman's body may differ from another, the health of your baby is your #1 priority! After all, your nutritional needs during pregnancy are unique, and your nutritional decisions will impact you and your child's health for a lifetime. First and foremost, it's important to maintain a healthy diet and lifestyle. However, natural health products are also a great way to optimize your prenatal nutritional needs. In Perfect Prenatal, organic herbs, vitamins and minerals work together to promote a healthy pregnancy and baby – not just address nutrient deficiencies.
Perfect Prenatal is formulated with your needs and the needs of your baby in mind. Every daily dose provides pregnancy-essential nutrients including 24 mcg of Vitamin D3, 18 mg of Iron, and 600 mcg of Folate. The once-per-meal formula is easy to take.
2016 Alive Magazine Retailer Choice SILVER Award, Multivitamins & Supplements Category
Recommended dose: Pregnant women—Take 1 tablet with food three times daily. Take a few hours before or after taking other medications.
Amount per 1 Tablet
Beta-carotene† [1666 IU]
1000
mcg
Biotin† (Biotin)
100
mcg
Calcium (Calcium carbonate)
25
mg
Chromium† (Chromium [III] chloride)
33.33
mcg
Copper† (Cupric sulfate)
250
mcg
Folate† (Vitamin B9) (Folic acid)
200
mcg
Iodine† (Potassium iodide)
30
mcg
Iron† (Ferrous fumarate)
6
mg
Manganese† (Manganese chloride)
0.67
mg
Molybdenum† (Sodium molybdate)
6.67
mcg
Niacinamide† (Vitamin B3) (Niacinamide)
6.67
mg
Pantothenic Acid † (Vitamin B5) (Calcium d-Pantothenate)
3.33
mg
Riboflavin† (Vitamin B2) (Riboflavin)
1.67
mg
Selenium† (Selenium dioxide)
16.67
mcg
Thiamin† (Vitamin B1) (Thiamine hydrochloride)
1.33
mg
Vitamin B6† (Pyridoxine hydrochloride)
1.67
mg
Vitamin B12† (Cyanocobalamin)
10
mcg
Vitamin C† (Ascorbic acid)
20
mg
Vitamin D3† (Cholecalciferol) [333 IU]
8.33
mcg
Vitamin E† (d-α-Tocopherol) [10 IU]
6.9
mg
Vitamin K1† (Phytonadione)
23.33
mcg
Vitamin K2 (Menaquinone-7 from natto)
3.33
mcg
Zinc† (Zinc oxide)
2.5
mg
Medicinal Herbs
Organic Blackberry† (fruit) (Rubus armeniacus)
6.14
mg
Organic Blueberry† (fruit) (Vaccinium angustifolium)
6.24
mg
Organic Clove† (bud) (Syzygium aromaticum)
3.43
mg
Organic Dandelion† (leaf) (Taraxacum officinale)
3.44
mg
Organic Flame Raisin† (fruit) (Vitis vinifera)
6.14
mg
Organic Lavender† (flower) (Lavandula angustifolia)
3.44
mg
Organic Oats† (grain) (Avena sativa)
22.64
mg
Organic Prune† (fruit) (Prunus domestica)
6.14
mg
Organic Raspberry† (fruit) (Rubus idaeus)
3.44
mg
Organic Rose Hips† (fruit) (Rosa canina)
3.44
mg
Organic Cruciferous Sprouted Seeds
Organic Broccoli† (sprouted seeds) (Brassica oleracea italica)
16.67
mg
Organic Cabbage† (sprouted seeds) (Brassica oleracea capitata)
3.33
mg
Organic Cauliflower† (sprouted seeds) (Brassica oleracea botrytis)
3.33
mg
Organic Daikon Radish† (sprouted seeds) (Raphanus sativus)
3.33
mg
Organic Kale† (sprouted seeds) (Brassica oleracea viridis)
3.33
mg
Organic Mustard† (sprouted seeds) (Brassica juncea)
3.33
mg
† fermented
Non-medicinal ingredients: Organic soy, organic brown rice, organic lemon balm, organic peppermint leaf, organic Saccharomyces cerevisiae, organic maltodextrin, magnesium, organic carrot root powder, organic alfalfa grass powder, organic orange peel, organic gum arabic, silica, shellac, carnauba wax, maltodextrin and magnesium stearate.

Contains: Soy, wheat and mustard.

Contains gluten at less than 20 ppm.
Cautions and warnings: Consult a healthcare practitioner prior to use if you are taking blood thinners. Do not use this product if you have an allergy to any of the ingredients. Discontinue use and contact a healthcare practitioner if you experience an allergic reaction. Contraindications: For adult use only. Do not use if you have liver or gall bladder disorders or a bowel obstruction. Known adverse reactions: Discontinue use if you develop symptoms of liver trouble. Keep out of reach of children. There is enough iron in this package to harm a child.
---
We Also Recommend